New cancer centre to start with prostate patients

17.11.16
THE cross-border radiotherapy cancer centre at Altnagelvin Hospital is on target to begin taking patients at the end of this month, it's been confirmed.
The Western Trust said the new service - a decade in the making - will "greatly enhance" existing cancer care in Derry, Donegal and the trust's wider north west catchment area.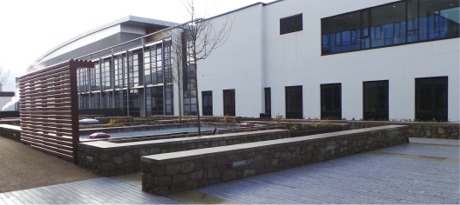 The courtyard at the new North West Cancer Centre at Altnagelvin Hospital, Derry.
Lead clinical oncologist, Dr David Stewart said: "For the past three years our oncology team, therapeutic radiography staff and medical physics team have been working together to design patient pathways and to plan for the delivery of the new service.
"We have also worked closely with our health colleagues at the regional cancer centres in Belfast and Galway and with cancer services staff in the Northern Trust and Letterkenny University Hospital."
Dr Stewart added: "To support the implementation of radiotherapy treatment at the hospital, the opening of the Radiotherapy Department will be phased. This is to ensure radiotherapy within Northern Ireland continues to be delivered safely to the highest standard.
"The initial phase will see a small number of new patients with prostate cancer receive their treatment at the centre. This will commence within a matter of days. Phase two, in the New Year, will see a gradual increase in the number of patients and different types of cancers being treated at the centre."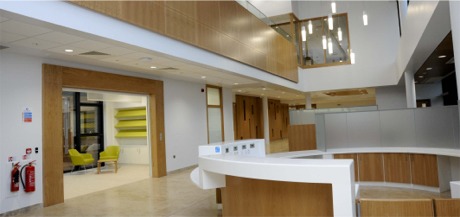 The reception area at the new North West Cancer Centre.
Patients getting a cancer diagnosis will be sent to the new Altnagelvin unit if they are referred by the medical team at their own hospital.
Western Trust chief executive Elaine Way said: "A new radiotherapy facility at Altnagelvin Hospital has been on the horizon for almost a decade. It is absolutely fantastic for the people of the North West and surrounding areas that we are now about to make use of this outstanding new development."