Meet the Newtown mammy who "farts glitter"
21.09.16
NEWTOWNCUNNINGHAM mammy Maria Rushe tells her children she's a mythical creature who "farts glitter".
And she's also a successful blogger who's just been shortlisted in the country's top blog awards for her hilarious take on motherhood.
Maria, who pens the hugely-successful 'Secrets of S-Mum' blog, made it through the long-list of thousands onto the short-list before her blog was selected for two categories in last week's national finals in Dún Laoghaire.
'Secrets of S-Mum' was a finalist in two categories: Best Parenting Blog and Best Blog Post for "I am Shake-a-Bootay Mum."
"I was just so delighted to have been nominated, and I never expected to get shortlisted, never mind to the final," said teacher Maria who lives with fitness instructor husband Emmet and their two children in Newtowncunningham.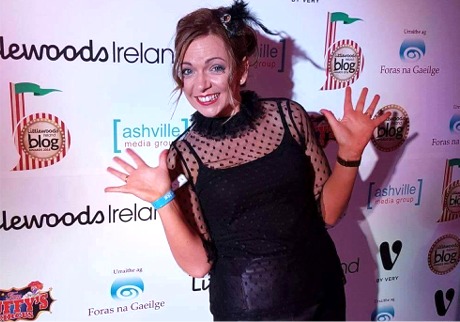 Donegal teacher and blogger Maria Rushe enjoys the Ireland Blog Awards 2016 in Dún Laoghaire.
"I blog for fun and never anticipated being included in such a huge national awards process.
"It was amazing just to be there on the night and to see my wee blog up there beside established and well known bloggers," added Maria who teaches English at Colaiste Ailigh, Letterkenny.
"I tell it as it is: the good, the bad and the ugly. Other mums and dads seem to like that and it's important that the 'other side' of parenting is portrayed to society, not just the cliché of what perfect or ideal or acceptable parenting is."
Maria's latest blog instalment involves a re-enactment of a car journey with her daughter involving, erm, farts and unicorns:
"Well it wasn't me. Anyway, you know Mammy only farts glitter..."
www.secretsofsmum.wordpress.com