Donegal to recycle batteries for children's hospice
19.09.16
DONEGAL County Council and Tidy Towns groups in the county are teaming up this month to support the WEEE Ireland Battery Recycling Campaign in aid of Ireland's children's hospice, LauraLynn.
The Battery Recycling Campaign will see participating Tidy Towns groups distribute battery collection boxes within their community including local schools, community centres, post offices, shops and businesses.
At the end of the month, full battery boxes will be collected and brought to a central location where the batteries will be weighed and brought for recycling.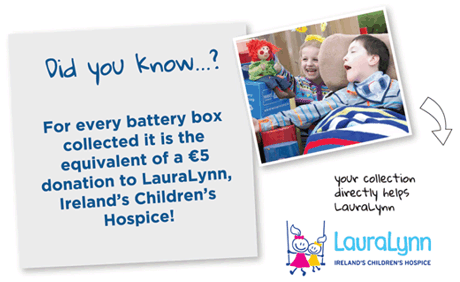 Every battery that is collected for recycling goes towards a monetary donation for the LauraLynn@HOME service which brings hospice care into the comfort of a child's own home.
Last year the scheme raised €185,000 for LauraLynn. A further €50,000 was donated at the start of this year.
Donegal County Council waste awareness officer Suzanne Bogan said: "I am sure that the people of Donegal will make every effort this September to find any waste batteries lying around their homes and sheds in order to reach the recycling target for batteries of 45%, as set by the EU. If this happens, WEEE Ireland have pledged to top up the existing donation to hit the €250,000 mark to LauraLynn."
For more information, you can contact Suzanne Bogan on 074-9176276.