Hospital spent €1.3m on private ambulances
14.09.16
LETTERKENNY University Hospital forked out €1.3m on private ambulance services last year – a rise of €707,000 on 2014, new figures show.
Inishowen-based Donegal TD., Charlie McConalogue described the HSE bill as "staggering" saying it is "simply not sustainable".
He urged Health Minister Simon Harris to provide additional ambulances to reduce the costs incurred by the county's acute hospital.
"I have expressed concerns about ambulance provision in Donegal over the past number of years but the Government has continued to ignore the problem.
"We are talking about a huge increase in costs for private ambulance hire in a one year period. If we had a properly funded public ambulance service this money could be spent on tackling ED overcrowding, waiting lists and staffing issues."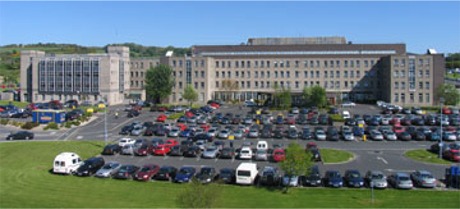 Letterkenny University Hospital.
The local deputy said he has contacted Mr Harris seeking "a guarantee that Donegal will have adequate ambulance cover to cater for the large geographic area and to service Letterkenny University Hospital".
"Minister Harris recently visited LUH and saw first-hand the stress that staff and services are under. Funding has always been a problem, but now we learn than over €1m was spent on private ambulances last year.
"This is simply not sustainable. Letterkenny University Hospital is the hub of our health service in Donegal and it needs to be properly supported at government level. I will be doing all I can to ensure the minister makes this happen."