Cancer group welcomes surgeon post
26.01.16
CO-OPERATING for Cancer Care NorthWest has welcomed confirmation from Minister Joe McHugh that the HSE will introduce a new consultant breast surgeon post at Letterkenny University Hospital.
"2016 has started out very well in relation to cancer services for Donegal and the North West. Last week Altnagelvin Hospital confirmed that the cross border Radiotherapy Unit currently under construction will become operational in the autumn of this year," the group said today in a statement.
"The unit will provide radiotherapy treatments for cancer patients from both sides of the border and will reduce the long distressing journeys to Galway, Dublin and Belfast for the majority of patients.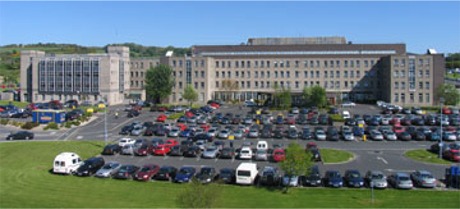 Letterkenny General Hospital.
"CCC(NW) has campaigned for many years for the sustainable retention and development of cancer services in LUH and in particular breast cancer services. We have long lobbied for the appointment of a second consultant breast surgeon to support and develop breast services along with Mr Michael Sugrue and the breast care team.
"Hopefully in the very near future, Donegal women will reap the benefits of this second appointment and waiting times will be reduced along with fewer women having to travel to Galway.
"Whilst there remains much work to be done and discussion to be had in relation to sustaining and developing other services at LUH, such as urology services, today is a good day, this is a positive outcome," the CCC(NW) statement added.