Moville to host major sea rescue demo day

11.07.16
LEADING marine search and rescue experts from the islands of Ireland and Britain will put on an exciting display of their life-saving skills next weekend in Moville-Greencastle.
The shores of Lough Foyle will welcome the Navy and some of the country's top rescue crews for the annual Irish Marine Search and Rescue Demo (IMSARC) on Saturday, July 16.
Greencastle Coast Guard will co-ordinate a busy, day-long schedule of events involving the Irish Coast Guard helicopter, the Naval ship LÉ Orla and the Air Corps Casa aircraft.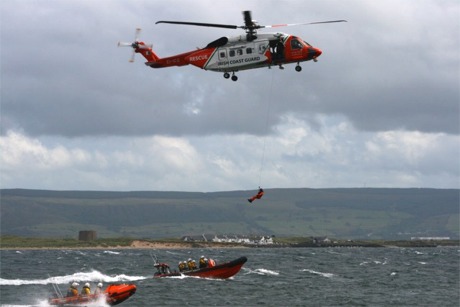 Lough Foyle to host top marine rescue crews.
A good crowd is expected and spectators can expect to see both land and sea operations including winching and shoreline techniques.
Donegal-based volunteer Coast Guard units and the crew of Buncrana RNLI's new Shannon-class lifeboat 'Derek Bullivant' will also demonstrate their skills.
Meanwhile, Bord Iascaigh Mhara; the UK Maritime Coastguard Agency, Irish Water Safety, Mountain Rescue Ireland, Civil Defence and Foyle Rescue will also take part.
The event will commence at 11am with a mud rescue demonstration by nearby members of the Maritime Coast Guard Agency. There will also be a demonstration of drone technology.
Water-based events involving the Coast Guard helicopter, the LÉ Orla and the Air Corps Casa as well as other displays will commence at 1.30pm.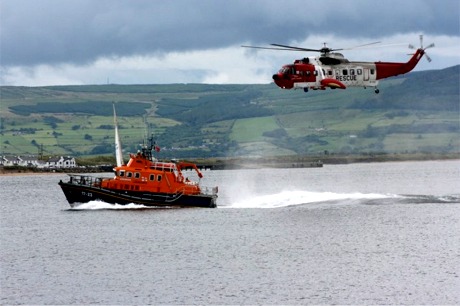 Lough Foyle to host top marine rescue crews.
IMSARC Draft Schedule of Events
1100 to 1230: CLIFF Rescue Exercise and Mud Rescue – BIM RNLI and IRCG Safety Displays Road Shows Donegal MRT Drone on Display
1230 to 1330: Band Entertainment
1330 to 1400: Naval Vessel Winching Ex with IRCG Heli – Static Winch from NS RIB – then Winch to deck of NS vessel – return Crewman
1400: IRCG Helo to Land Bay Field 1400 to 1500 – May depart to Derry for Fuel first
1410 to 1430: CASA flypast and liferaft Drop – Life Raft recovered by LE Orla
1430: Departure of LE ORLA – Fly by of CASA
1430 to 1450: Irish Water Safety Demo – Stand up Paddle Boarder in Difficulty. Recovery & Assistance By Beach Lifeguards
1500 to 1515: Foyle Rescue MOB Drill – RIB display
1515 to 1520: Fishing vessel On Fire and Abandon Ship (NFC College Trawler Smoke and Life Raft)
1520 to 1530: Lough Swilly Lifeboat and Greencastle Delta Respond – Recover Casualties to RIB and Lifeboat – Demo of casualty recovery from the Water
1530 to 1540: Coast Guard RIB recovers Transfers Casualties to ALB
1540 to 1600: Helicopter arrives on scene and begins winching from ALB – Helicopter Released at 1600hrs to RTB or Refuel Derry
1600 to 1615: Beach lifeguards working with Greencastle D Class recover a Casualty to the beach and begin First Aid
1615 to 1630: Short Pyro demo from Lifeboat and CG RIB