Check the Donegal Winter Gritting Map

18.11.16
AS temperatures drop in Donegal, the council's gritting crews have been out overnight and this morning gritting all designated routes around the county.
Motorists and road users can stay up to date on routes to be gritted by checking the Donegal Winter Gritting map which is an interactive map available on Donegalcoco.ie .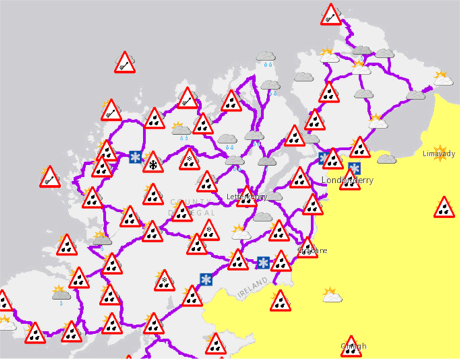 Donegal Winter Gritting Map.
This map is linked to the Councils social media platforms and provides information on routes and length of routes to be gritted on any given night as well as an hourly forecast feed for most areas of the county so that users can check their local weather forecast for the next 12 to 24 hours. It also shows locations where sand and grit stock is available for use by the public. Road users can also view live road conditions at a number of locations around Donegal and across the North West including An Grianan Aileach, Burt; the Foyle Bridge and Glenshane Pass.
To view map click here .