Greencastle to host regatta for people with disabilities

0
3.06.16
BOOKING is now open for Foyle Sailability's Regatta in Greencastle next Tuesday.
Event co-ordinator Karen McCormick said organisers are looking forward to welcoming people with disabilities to try sailing as a sport on Lough Foyle.
"This event is open to people with disabilities from across the north west, but advance booking is essential. We will have dinghies, canoes and passenger boats on the day so there will be something to suit everyone," said Karen.
Sailing will take place from 11am to 3pm, weather permitting, on Tuesday, June 7.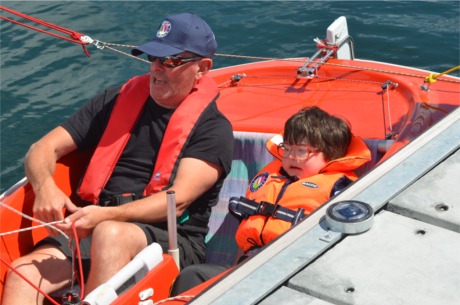 Christopher Grant (7) from Letterkenny enjoys sailing with Foyle Sailability volunteer Ken Curry during a previous event in Greencastle. Photo: Peter Fallon, Lough Foyle Yacht Club.
The Foyle Sailability Regatta is being held to mark the charity's participation in a sailing race in Scotland later that week.
Two teams will leave Greencastle to take part in the St Kilda Challenge in the Outer Hebrides on Friday, June 10.
"Foyle Sailability is sending two yachts to participate in the race, which is organised by Comann na Mara (Society of the Sea). Yachts Dream Machine and Kind of Blue - skippered and crewed by Foyle Sailability volunteers - are taking part in the St Kilda Challenge to raise awareness of Foyle Sailability," added Foyle Sailability chairperson, Cathal MacElhatton.
"We'll be sending them on their way on the morning of June 8 from Greencastle, and our participation in this event is funded by MalinWaters."
To book a place in the regatta in Greencastle next Tuesday, please contact: foylesailability@gmail.com .