Election 2016: Once upon a time, in a galaxy far, far away...
24.02.16
by Linda McGrory

DONEGAL goes to the polls along with the rest of the country this Friday to elect the five people they want to represent them in the next Dáil.
All elections are important but 2016 seems even more so.
Ireland is a country in flux - politically, economically, idealogically and even geographically - geographically given the constituency changes that have seen Donegal converted from a two, three-seater constituency to a single, five-seater one.
We have a 'united Donegal' for the first time.
No more Donegal south west or Donegal north east. That brings its own challenges - especially for the floating voter.
Previously, many people voted along parochial lines...for example keeping an Inishowen TD for Inishowen or a Gaeltacht TD for the Gaeltacht.
When Inishowen voters go to the polls in two days' time, we will have a choice of voting for the betterment of the county as a whole - for example we can vote for Killybegs Independent TDs Thomas Pringle and first-time general election candidate Niamh Kennedy.
And vice-versa for the people living in these candidates' hinterland who can choose, for example, between Charlie McConalogue (FF), Joe McHugh (FG), Pádraig MacLochlainn (SF) or Frank McBrearty Jnr (Ind).
Donegal voters who really care about the choice they make on Friday have a multitude of things to consider - and let's face it, it's the job of the candidates to give us those considerations.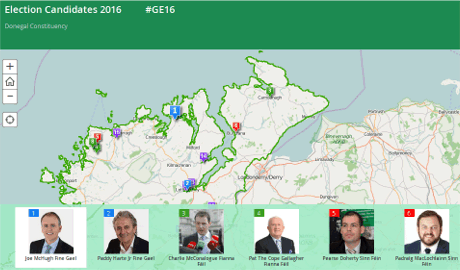 Putting the Donegal General Election candidates on the map. (Click on Map)
There is the gender factor - would we like to see more women represent us in the Dáil; the stability factor - as Fine Gael and Labour keep telling us, a vote for them is a vote for economic stability. But Labour didn't offer us a Donegal candidate this time so FG's Joe McHugh and Paddy Harte are on the campaign trail without their socialist side-kick, as it were.
Then we have the new and the nearly-new factors. The choice of a brand new, untainted candidate to represent us? Is that just spoiling the party for someone else or a wasted vote on someone with scant chance of election? Your choice.
Then we have the nearly-new factor. Sinn Féin have been representing their voters in Donegal for so long now both at local and national level, those relatively young men, Pádraig MacLochlainn and Pearse Doherty, seem like Dáil veterans. Being in Opposition during a long, severe recession will do that.
Nevertheless, Sinn Féin, who are pitching themselves as the best alternative to Fine Gael, Labour and Fianna Fáil would also be new in terms of their experience in government and managing the Republic's finances.
In the nearly-new category too, is Charlie McConalogue who has been in the Dáil for five years but has no experience of government.
However, the Fianna Fáil poster in Inishowen is clever. The ministerial and party veteran (Pat The Cope Gallagher) is there in the background to guide the new government hopeful, McConalogue, should you choose to give them your one and two.
It's like Obi-Wan Kenobi coming back to mentor Luke Skywalker as he bids to save the people.
Fianna Fáil certainly thinks the force is with them this time - while simultaneously hoping voters will have an intergalactic amnesia about the Bertie Ahern/Cowen years of irresponsible excess.
I personally think Barry Cowen did Fianna Fáil no favours up against Paschal Donohue (FG) yesterday on RTE's Morning Ireland. He sounded belligerent, something his brother, former Taoiseach Brian Cowen, could be at times.
Donegal, like Ireland itself, is an interesting political melting pot.
While it has traditionally been underpinned by agriculture, its future outlook is modern and technologically-driven (sketchy broadband notwithstanding).
Indeed Irish agriculture is becoming more and more technologically-driven with young farmers pitching themselves in the growing, niche artisan business category.
Donegal also has a history of small self-employment, a backbone often neither acknowledged nor appreciated.
And then there is the bloated public sector where wastage, particularly in management and administration, is something that no Irish government ever seems to be able to fully tackle.
There will be a big difference in motivation in Donegal this Friday between a voter in the public sector; a small self-employed business person; an unemployed voter; a student, an employee on a modest salary and a State pensioner.
And whether it's party versus non party or stability versus uncertainty, could it all simply boil down to the infamous water charges on the day.
What is certain is that by now our recycling bins are full to overflowing with electoral junk mail. Sixteen candidates makes for a lot of unsolicited post and a long ballot paper.
Whether we in Donegal (arguably the forgotten county in a galaxy far, far away - complete with aurora borealis/Northern Lights) choose the stability factor; the gender factor; the anti-austerity factor; the new factor; the nearly-new factor or the veteran factor it remains to be seen who will have the X-Factor on Friday?
Remember though, Ireland has Proportional Representation (PR) so it's your first, second and third preferences etc that count...and they are still all to play for.