Donegal does Dylan with 10th annual music festival
26.08.16
BOB Dylan fans will come gathering round this weekend for the 10th annual DylanFest on the Lough aka 'Stuck Inside of Moville'.
Fans can look forward to four days of classic Bob Dylan songs and music in various locations around the picturesque seaside town until Sunday, August 28.
Top Dylan act, Al Diesan, will again fly in from Cagliari in Sicily, taking no fewer than six planes and various buses and taxis but he makes the journey as "his annual pilgrimage", says veteran festival organiser Gerry McLaughlin.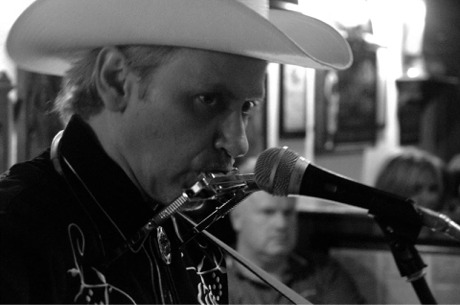 Italian tribute act Al Diesan playing in Rosato's, Moville.
Also on his way back to Moville is Bobby Does Dylan, who actually met his hero a couple of years back.
And playing the festival for the second year in a row is Tara Boehm from Philadelphia.
"Al, Bobby and Moville are supercool. I'm looking forward to it," said Tara.
"The DylanFest is cool beans," she added.
Organiser Gerry added: "It looks as if we are going to have a bumper weekend with a heatwave predicted. What could be better than listening to, or playing, Dylan songs on a great day while overlooking Lough Foyle.
"It looks like there won't be any 'Blowin in the Wind' this year and nor will we have to 'Shelter From the Storm'. Bring it on!"