Preliminary data from Census 2016 shows that net migration from Donegal was - 6,731 since 2011.

15.07.16
A TD has warned that the drop in Donegal's population could have "serious implications" for the future of the county.
Deputy Thomas Pringle was responding to Census 2016 figures released yesterday showing that Donegal has lost the equivalent of a town's population in the last five years.
The figures show that net migration (the movement of persons into and out of Donegal) was -6,731 people.
Donegal's population now stands at 158,755.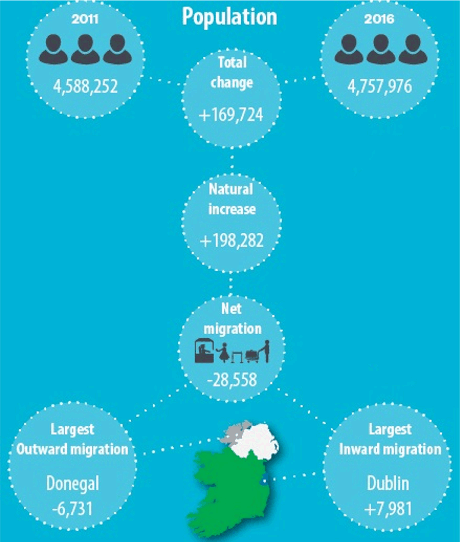 The new Census figures also show that Donegal has a total of 23,899 vacant dwellings including holiday homes (vacancy rate of 28.2%).
Meanwhile, Ireland's population grew nationally by almost 170,000 (3.7%) with the highest percentage increase recorded in Co Meath (5.9%).
Deputy Pringle said: "We always knew emigration was going to be high in the area, but having the highest population loss in the country could have serious implications for Donegal.
"The social consequence must also be dealt with as many of the people who left were young people forced to leave in search of work. This has been devastating for Donegal communities, particularly in more rural areas. Coupled with an ageing population, youth emigration will devastate communities even further unless the Government acts now."
The Killybegs-based Independent TD said Government policy needed to focus on Donegal's peripherality as well as address "years of under-investment that have led to high rates of emigration".
"That means investment in our schools, infrastructure and in targeted jobs policies which create sustainable, local jobs in our communities. We're not seeing this at the moment," he added.