Wimpy kids and drug cartels dominate library list

11.01.16
A NOVEL exploring the violent world of Latin American drug cartels was a hit among Irish readers at the country's 336 public libraries, new figures show.
'The Sound of Things Falling' by acclaimed Colombian writer Juan Gabriel Vásquez was the most borrowed book of adult fiction at Irish libraries in 2014.
It won the €100,000 International Impac Dublin Literary Award that year which partly accounts for its subsequent popularity among readers.
The list shows that children continue to be Ireland's top book borrowers.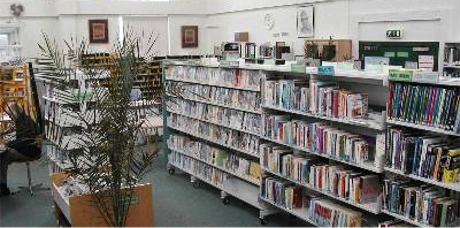 Carndonagh Library.
The 'Diary of a Wimpy Kid' series by American author Jeff Kinney dominates the top five places when all categories including adult, children and non-fiction are included.
Comedy actor David Walliams is known for judging others on Britain's Got Talent but he made an impression himself among Irish children. Walliams extracted a respectable ranking of ninth place with his sixth children's title 'Demon Dentist'.
'The Official Drivers Theory Test Questions & Answers', meanwhile, cruised to number 10 on the list.
The figures are compiled by Libraries Development at the Local Government Management Agency using data from the Public Lending Remuneration (PLR) scheme.
They show that Dan Brown's 'Inferno: Robert Langdon Book 4' was the second most borrowed book of adult fiction in 2014 followed by 'The Thing About December' by Tipperary writer Donal Ryan.
'The Casual Vacancy' by JK Rowling and 'Sycamore Row' by John Grisham are at four and five respectively.
'The Spinning Heart' by Donal Ryan; 'A Week in Winter' by Maeve Binchy; 'The Hundred Year Old Man Who Climbed Out the Window and Disappeared' by
Jonas Jonasson; 'Gone Girl' by Gillian Flynn and 'Mad About You' by Sinead Moriarty, complete the top ten in adult fiction.
The league tables show that children's writers dominate the 'most borrowed author' list with Roderick Hunt taking top spot followed by Daisy Meadows; Franscesa Simon, Roger Hargreaves and Enid Blyton. US crime writer James Patterson continues his long-standing run as the most borrowed adult fiction author here.