Inishowen now part of the North in Census blunder
06.04.16
INISHOWEN has been gifted to the North thanks to a geographical blunder on the official Census 2016 website.
The Central Statistics Office (CSO) has apologised after the peninsula was cut off the map and apparently annexed by the Six Counties.
Inishowen is Ireland's most northerly peninsula. It is about the size of Co Louth and has a population of almost 40,000 people.
The mistake on an infographic entitled 'The Journey of a Census Form', was spotted by an irate Inishowen News reader who fumed: "Do the people of north County Donegal like being in the UK? You should kick up a stink about it."
The cartography error is especially embarrassing as it comes on the centenary of the 1916 fight for independence and just days after an Irish language error appeared on the Remembrance Wall at Glasnevin Cemetery.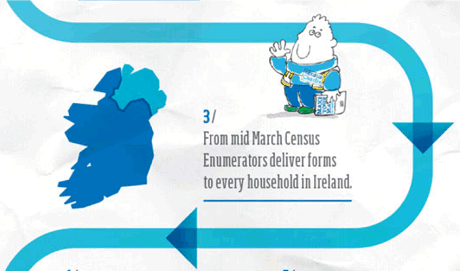 Inishowen becomes part of Six Counties in Census blunder.
The CSO said the mistake was "inadvertent" while the faulty infographic was rectified within several hours of the statistics body having been notified.
"The Central Statistics Office acknowledge the inadvertent error on the graphic which resulted in the omission of the Inishowen Peninsula and apologise for any offence or inconvenience caused," said a spokesperson.
The graphic was provided to the CSO by leading Dublin advertising and design agency, Language.
The company has many prestigious clients and was the creative force behind the successful Yes Equality same-sex marriage campaign last year. Language indicated that the map was being corrected as a matter of priority.
The CSO said it could not comment specifically on the cost of the faulty graphic to the taxpayer as it was "just one part of a large amount of design work" produced by the Dublin company for Census 2016.
An official census of population takes place every five years and the next head-count will be held on the night of Sunday, April 24, 2016.
Meanwhile, the CSO reassured all householders in Inishowen that, despite their initial exclusion from the map, they must fill out a census form.
"Census enumerators have been delivering forms to every household in the country and will continue to do so up until April 24 including, of course, to everyone in every part of Donegal," the spokesperson added.