'Here Comes the Sun' for BeatlesFest

27.07.16
IT'S that time of year again when Moville rocks to the sound of the Fab Four at BeatlesFest on the Lough.
And the organisers hope that many of the tribute acts this year will have cause to play the classic track 'Here Comes the Sun' in the hopes our summer finally comes out to play.
The festival marks its 10th milestone this year with music in multiple indoor and outdoor venues around the seaside town over the Bank Holiday.
The five-day festival started small back in 2007 but has now grown into Ireland's longest running festival of Beatles music.
"If you missed the Sixties then Moville is where to be this weekend. We are encouraging people to wear Sixties gear," said organiser Gerry McLaughlin.
The local festival has attracted some top names in previous years including the recently-deceased Henry McCullough, the only Irishman to play Woodstock and lead guitarist with Paul McCartney's band Wings.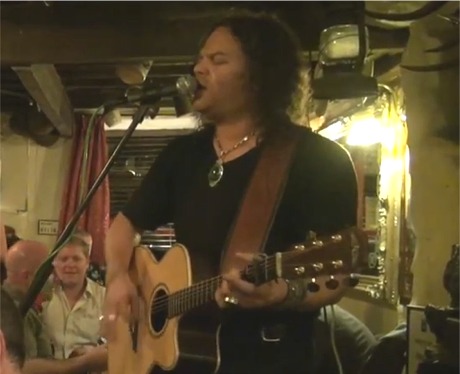 Michael Thomas playing at Rosatos
Acts like The Cavern Brothers, Dahlia, Michael Thomas and Caolan are playing this year along with solo performers and duos.
"There will be lots of Open Mics during the day for people that come to the festival and can play a few Beatles tunes.
"The Beatles lyric that we most want to hear this weekend is 'Here Comes the Sun', quipped Gerry. BeatlesFest on the Lough takes place from Thursday, July 28 - August 1.

BeatlesFest Programme of Events 2016
Come Together Night Thursday 28th July
9:45pm – Dahlia Band at Annie's Bar

It's Getting Better Night Friday 29th July
10:30pm – Dahlia Band at Rosatos
12:30pm – Dahlia Band at The Clock

A Hard Day's Night Saturday 30th July
5pm – Open Mic (venue TBA)
10:30pm – Michael Thomas at Rosatos
10:30pm – Electric Fly at The Clock

Strawberry Fields Afternoon Sunday 31st July
5pm – Open Mic (venue TBA)

Hello Goodbye Night Sunday 31st July
10pm – Luke McLaughlin at Caiseal Mara
10pm – The Cavern Brothers at The Clock
10:30pm – Damien Sheridan at Rosatos