Do you carry a toxic handbag?

09.03.15
WOMEN carry a "frightening" amount of toxic items in their handbags that pose a poisoning risk to young children, the National Poisons Information Centre (NPIC) has warned.
The centre urged young mothers, their female friends and relatives to clear out their bags and keep products such as painkillers and contraceptive pills out of reach of toddlers.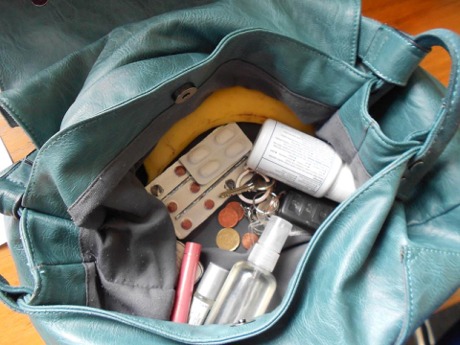 The National Poisons Information Centre cites this bag as an example of one that poses a toxic danger to young children.
NPIC poison information specialist, Elaine Donohoe, said people were generally aware of the dangers lurking in the kitchen cupboard or the bathroom cabinet but might overlook their own handbag as a possible danger zone for kids.
"The handbag is probably somewhere people don't think about, even though many toxic items can be found there on a daily basis," said Ms Donohoe.
"You can find a range of things that people take every day such as contraceptive medication, diabetic medication or ibuprofen and paracetamol. Then perhaps with a grandmother or older relative's handbag, you might find cardiac medication."
Ms Donohoe said women should be mindful not to leave handbags lying open on the floor or anywhere within reach of youngsters.
"We would urge people to be conscious about what they're carrying around with them without even realising it."
The poisons specialist added that while many female cosmetics such as lipstick did not have high toxicity levels, high-alcohol hand-gels posed a risk.
Meanwhile, she urged women to adopt a number of simple measures to keep their handbags child-safe.
"In the first instance, don't take tablets out of their original packaging because it makes access to them easier.
"Also, if a child accidentally takes medication or is found with medication and requires medical assessment, it's much more difficult to identify what it is and what concentration it is, if it's out of its original packaging.
"Overall, 'out of sight and out of reach' would be the ongoing slogan we would try to encourage," she added.