Daniel flies to moon one last time

23.12.15
DANIEL O'Donnell will finally conquer his dance nerves when he performs with Strictly Come Dancing partner Kristina Rihanoff one last time on St Stephen's night.
The Russian professional has reunited with the Donegal singer for a Christmas special - Daniel O'Donnell and Friends - to be screened on RTE One this Saturday.
Ms Rihanoff said she was thrilled to meet up again with the 54-year old crooner who she regards as a "friend for life".
Viewers suffering Strictly withdrawal since the BBC show ended last weekend, can once again see the duo perform their 'Fly Me to the Moon' foxtrot.
It was the dance that saw them leave the competition in week four. Seasoned performer Daniel said he was taken by surprise at how panic-stricken he would get each week on the Strictly dance-floor. He also described how he feared he would drop Kristina during the routine.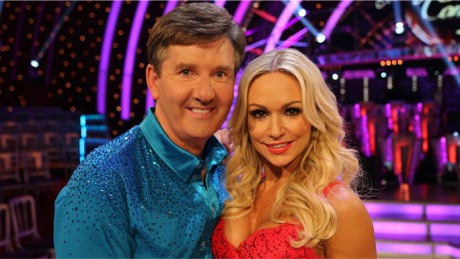 Daniel O'Donnell and his dance partner Kristina Rihanoff. Photo: BBC Strictly Come Dancing.
Ms Rihanoff, who flew to Ireland to shoot the special at picturesque Powerscourt House, Co Wicklow, said she was concerned Daniel would have forgotten the tricky, pilot-themed routine. But she revealed that he stepped out with ease.
"We did the foxtrot, the last dance we did on Strictly. I was slightly worried as we havenít danced for a while but he remembered everything and we filmed the dance in one take," she said.
"It was so nice to see him and Majella. I love going to Ireland. The people are so, so nice and the setting was gorgeous.
"It was fantastic to see him. I do know that Iíve made a friend for life. Thatís the best thing you take from Strictly Ė you meet exceptional people and make great friends every year," she said in her latest Hello magazine blog.
Daniel's guests for the one-hour special will also include country star Declan Nerney and his niece, Saturdays singer Una Foden, while mentalist and magician Keith Barry also makes an appearance.
The programme airs on RTE One at 9.20pm on December 26.