Dragons' Den star to create ten jobs in Buncrana
23.03.15
DRAGONS' Den star Peter Casey has chosen Buncrana to locate a new online interviewing company and hopes to create ten jobs by the end of this year.
Mr Casey projects that his new firm, www.onlineinterview.ie , will have a turnover in the first year of €1m leading to a €3m turnover in year three.
Online Interview is an online hiring system that allows companies to create and record live or automated video interviews "using immediate candidate responses to important questions".
The company will be based in Buncrana with offices also in Dublin.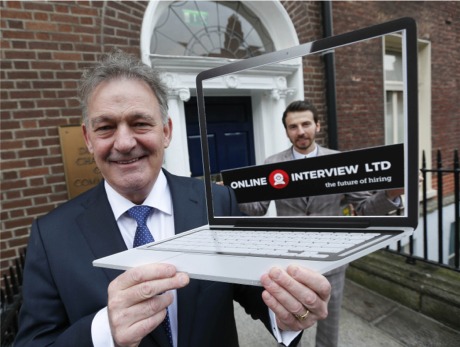 Chairman Peter Casey and Managing Director Elton Hysa at the launch of Online Interview Ltd in Dublin this week.
Pre-sales support operations are currently based in Chicago and will be handled in Donegal within the next few months.
Derry-born Mr Casey, who made his fortune in executive recruiting, said: "Online Interviews...is built with the reality of recruiting in mind and it allows the client to better sell their company to the candidate and vice versa.
"Interviews can be two-way or one-way – or we can have a number of different hiring managers online at the one time.
"It is also user friendly for the applicant, allowing them to re-record answers to a specific question a number of times until they are happy.
"Candidates don't necessarily need to take off work to record and submit their answers. They can do it from the comfort of their home and therefore eliminate any travel time."
Mr Casey added: "I describe this system as being like Skype with steroids. Its beauty is that you can pre-programme questions and answers, follow up with up to ten hiring manager and allow them to give feedback to candidates."
The new company was launched with a live webinar from Chicago in Dublin this week.
"We have a lot of clients that are currently using it, which has been a huge plus to our development from the start," he added.