Record 1.3 million NCTs last year

11.03.15
THE National Car Testing Service (NCT) has had its busiest year on record with more than 1.3 million vehicles tested for roadworthiness last year.
The new figures show that a total of 1,344,265 cars were tested in 2014 compared with 1,170,899 the previous year - an increase of 173,366.
The spike is partly attributed to more people holding on to older cars and a rush for tests in the closing months of last year due to the introduction of penalty points for invalid NCT discs.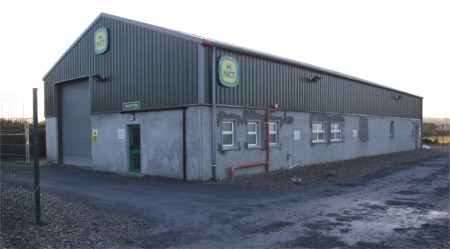 The NCT centre in Carndonagh.
The new figures, released yesterday by NCT operator Applus, also continue a trend that began in 2012, of more cars failing than passing the test each year.
A total of 689,255 cars (51.2 per cent) failed the test last year compared to a pass figure of 650,210 (48.4 per cent).
The statistics also show that 4,800 (0.4 per cent) vehicles were immediately put off the road by NCT mechanics who deemed them too dangerous to drive away from the centre.
This was 500 more in the 'fail dangerous' category than in 2013.
AA director of consumer affairs Conor Faughnan said road users should not be unduly alarmed by the 'fail dangerous' figure.
"We don't want to be complacent about the figure but it's a relatively small amount in the context of 1.3 million vehicles tested last year. We would be more worried if the NCT wasn't spotting them and preventing them from going out on the road. That's the reason why we have an NCT in the first place and an annual test for cars over ten years old," said Mr Faughnan.
The fact that more than half of vehicles are failing the test first time, was symptomatic of people continuing to use the test as a diagnostic tool, he said.
"We have to try and move away from this culture of just thinking about passing the NCT and not worrying about the car for the next two years.
"Really what we should be doing is maintaining cars on an ongoing basis but people tend not to do that. The average human being thinks their car is perfect if it passes the NCT. But that doesn't mean that they should skimp on maintenance." Mr Faughnan said poor tyre condition was a regular feature in many of the AA's winter call-outs this year.
Cars tested by the NCT in 2014 were registered 2010, 2008, 2006, 2004 and older.
The main fail items were front suspension followed by tyre condition; headlamp aim; brake line/hoses and stop lamps.
Of the 682,365 cars that were put through a re-test last year, 620,469 (90.9 per cent) passed; 61,072 (9 per cent) failed again while 824 (0.1 per cent) were again deemed too dangerous to drive.
Meanwhile, a total of 272,661 vehicles were tested in the first two months of 2015. Of these, 136,635 (50.1 per cent) failed while 135,101 (49.5 per cent) passed. A total of 925 vehicles tested in January and February were deemed un-roadworthy. Some 152 of these were still not fit to drive after a re-test.