Majella raises eyebrows with facial tattoos

15.01.15
MAJELLA O'Donnell has revealed she got her eyebrows tattooed after losing her hair during her cancer battle.
The 54 year old said the inking, coupled with breast reconstruction surgery, gave her femininity a huge boost as she recovered from the disease last year.
She insisted that while her double mastectomy last February did not make her feel less of a woman, she wanted to "start feeling feminine again".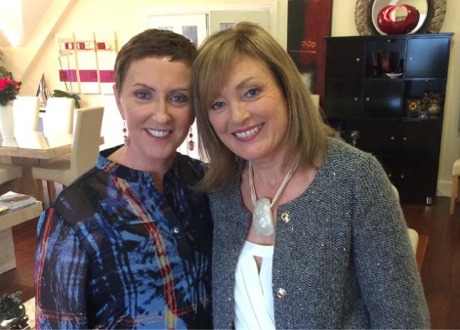 Majella O'Donnell pictured with RTE Nationwide presenter Mary Kennedy. Photo: @Majodonnell.
She opted for immediate breast reconstruction, with implants. She then discovered some months later that she could have her eyebrows reconstructed in a procedure known as 'embrowdery'.
The treatment involves the insertion of colour pigment with tiny needles into the pores in the top layer of skin. Majella had hers' done at the 'Up to My Eyes' salon in Greystones, Co Wicklow.
"I didn't have great eyebrows to start with but then when they fell out with the chemo', you look kind of ill all the time," the mum-of-two told RTE's 'Nationwide'.
A delighted Majella said the tattoos gave her "a lift" and brought "definition" back to her face, while the results even took singer husband Daniel (53) by surprise.
"Even Daniel said to me when I had had it done 'my God that's amazing the difference'," she said.
Meanwhile, the golden couple are currently escaping the Donegal snow at their holiday villa in Tenerife.
They are looking forward to Daniel's 18-month sabbatical to begin in earnest, after he completes a week-long residency on a Caribbean cruise ship next month.