Priceless love note penned on 20 euro note

28.08.15
A ROMANTIC message penned by a young Irish woman on a 20 euro note in the hope of re-uniting with a lost love is rapidly going viral.
The love note written in blue ink reads: "Christy, it's always been you! Come and find me - Megan x".
Meath woman Denise O'Reilly was stunned to find the €20 - with its echoes of the romantic film 'Serendipity' - when she opened her purse last Sunday morning.
Hopeless romantic Denise, who works at Supervalu, Kells, immediately posted a photo of the money and its love-lorn words in the hope of re-uniting the two lost loves.
"Found this is my purse this morning! Ah Christy, she loves you! Go get your girl. Come on people and share," Denise wrote on her Facebook page.
The post has been shared almost 16,000 times while sending people into a frenzy of speculation as they try to work out if any of their friends are the mysterious protagonists Christy and Megan.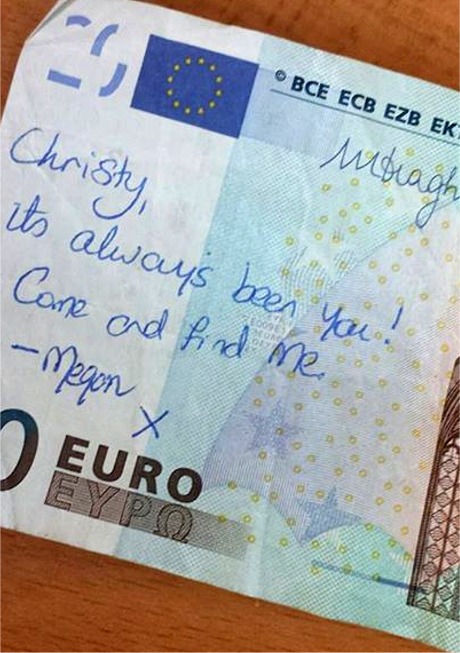 Love me tender.
The wishful Irish note, sent longingly into the universe, is reminiscent of the plot from the film 'Serendipity' starring John Cusack and Kate Beckinsale. In the 2001 movie, star-crossed lovers Sara and Jonathan write messages to each other on a five dollar bill and in a book, respectively, in the hope that one day they would each find the other's note and know they are meant to be together.
Meanwhile back on home soil, and with the power of social media, it appears Denise's helpful intervention may have worked its serendipitous magic.
A young Dublin-based musician named Christy this week posted an intriguing message on the supermarket worker's page, telling readers: "Hey, just quick update: I've been in touch with Megan and it's all good. Thanks so much for posting."
So have Christy and Megan found their happy ending? We have 20 euro on it that they might just have!