"Poetry helped me out of very dark place" - Donegal journalist
17.11.15
A WELL-known Donegal journalist who worked for many years in Inishowen will mark the end of one of the "toughest chapters" of his life with the publication of a new inspiring book of poetry.
'Dance in the Rain' is a reflection of the difficult journey Liam Porter has been on over the past number of years.
The book comes after he set himself a unique challenge - to write a poem on his blog every day in 2013.
By then he had turned a corner most people didn't even know he had to turn.
"I had lost my job very suddenly and unexpectedly and after the initial shock it was all about trying to find work again. But such was the Ireland of a few years ago there was no work and it gets harder and harder to take rejection and rejection over and over.
"It got to the point where I began to wonder if my family might be better off without me, and it was through sheer good luck that I managed to pull myself back from that dark space," said Liam.
The turning point he says, came when he went along in 2012 to an interview for the Discovery Zone – an intensive start your own business programme – being offered at the time by the Donegal County Enterprise Board.
"When I went to that interview I was really knocked off balance because for the first time in I don't know how long, I had people telling me very positively that I had something brilliant to offer.
I took part in the programme and I learned so much from all the fellow participants, mentors and guest speakers and I knew after that I could turn things around. It wouldn't be easy, but I felt I had some value again, something I could build upon."
As he headed towards the end of that year, Liam looked for a challenge for the new year that would keep him on track.
"When I set myself the challenge of a poem a day in 2013, it was never really about the poems. What I was really challenging myself to do, was to be there the next day. And then when that was done, the day after that.
Liam Porter.
I had challenged myself to another year and with every passing day I inched further and further away from the precipice."
He says that he was very lucky that on the darkest of days he was able to write things down, get it out of his head. Clear the decks over and over again.
"I was lucky that I had family and friends to lean on – even if many of them didn't even know I was laying full-square across their shoulders at times. I realise how fortunate I was to be able to steer my way back and I'd urge anyone who feels any kind of low like that to make sure they can get some help."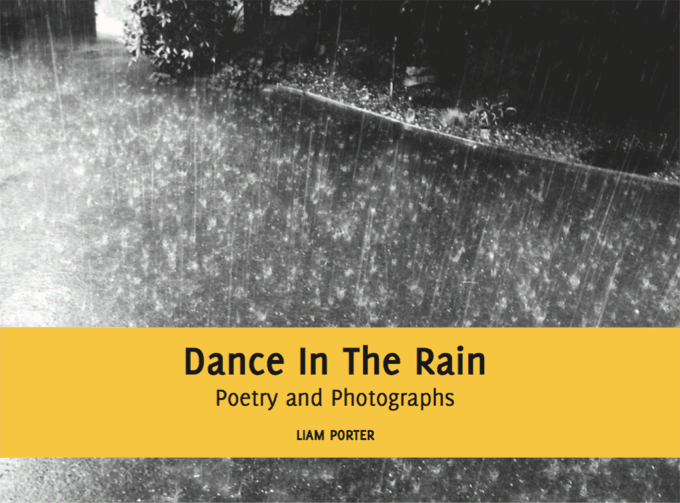 In the years that followed Liam continued to try to push himself out of his comfort zone, gaining confidence and self-belief with every new challenge completed.
One such task was to take part in a Strictly for Deele College and he says he looks back on that as the final bright pages in a dark chapter.
"Taking part in the Strictly was incredibly far from my comfort zone, but I found myself among a great group who were so fun and supportive and dancing with one of the most positive, fun-loving and inspirational women you are ever likely to meet in Sabrina Barnett. As I drove home after we'd danced that night I remember thinking that's the last lines written, you are never going back to that darkness again.
A few days later Sabrina gave me a gift that bore the words, 'life's not about waiting for the storm to pass, it's about learning to dance in the rain,' and all of a sudden I had the title for my book."
Since then Liam has been working on putting together the poetry and photographs together for his book and while he took the majority of the photos himself, says he is very grateful to all those who helped him in the search for the perfect fit.
"It's been a labour of love over the past year and the book is in Browne Printers now ahead of the launch. I'm looking forward to seeing it finally come to fruition now and I'd be extremely honoured if people were to come join us in the theatre for the launch."
'Dance in the Rain – Poetry and Photographs' will go on sale priced €20 at its launch on November 26 at 8pm in An Grianan Theatre, Letterkenny. Everyone welcome.