Second baby for footballer James McClean

12.02.15
REPUBLIC of Ireland star James McClean has revealed he's to become a dad for the second time.
The 25-year old winger announced the happy news by posting an adorable photo of his baby daughter Allie Mae in a t-shirt adorned with the message: "I'm going to be a big sister".
McClean and his fiancee of two years, Erin Connor, are expecting the new arrival in the autumn.
The happy couple has been inundated with messages of congratulations from fans and well-wishers since announcing they're getting a new addition to the family.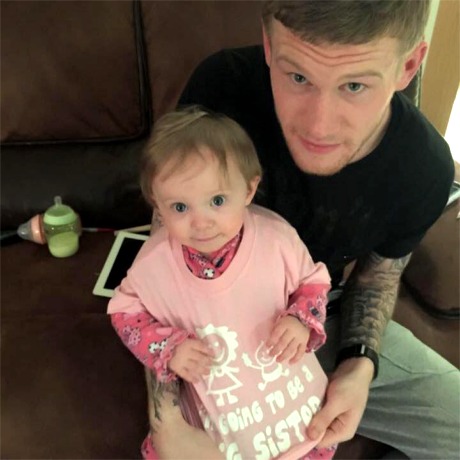 Republic of Ireland star James McClean enlists the help of daughter Allie Mae to reveal the young family's happy news. Photo: James McClean Facebook.
Derry-born Ms Connor gave birth to Allie Mae fourteen months ago.
The couple's second pregnancy will help ease McClean's disappointment at being denied a move from Wigan Athletic to Celtic on transfer deadline day.
Bolton-based McClean, a former player with his native Derry City, has a huge following in his home city.
The Irish international was embroiled in controversy when he refused to join his Wigan team-mates in wearing a poppy-embroidered jersey last November.
He said his wearing a poppy would dishonour the victims of the North's Troubles including the innocent people who died in his home city on Bloody Sunday in January 1972. At the time, the young dad said he wanted Allie Mae (and now of course his new arrival) "to grow up in a peaceful world, like any parent".