Inishowen Lodge B&B celebrates top rankings on TripAdvisor

18.05.15
AN Inishowen B&B is celebrating top rankings on TripAdvisor thanks to happy guests who were delighted with their stay at the fantastic local guesthouse.
Inishowen Lodge Bed & Breakfast at Redcastle, Moville, has won Tripadvisor's 2015 Travellers' Choice Award.
The accolade, voted by satisfied customers, catapulted Inishowen Lodge into TripAdvisor's Top 20 B&Bs in Ireland - the only one in Donegal to feature in the travel giant's Top 20.
The beautiful B&B is run by friendly husband and wife team, Irwin and Olga Thompson, who said they were thrilled to be named TripAdvisor's Number One Donegal B&B and placed in its Top 20 in Ireland.
Inishowen Lodge boasts a five-star rating on TripAdvisor.
Guests who posted comments about their stay have been glowing in their praise with reviews such as "Best B&B stayed in"; "A little bit of heaven on earth in Inishowen" and "Excellent location with a very attentive service that tops most hotel services by far".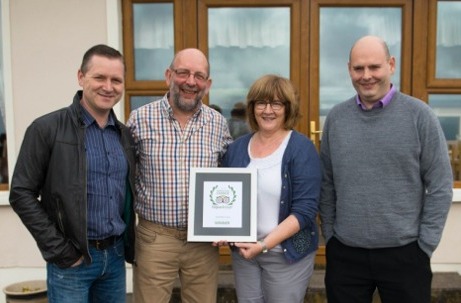 Inishowen Lodge Bed & Breakfast proprietors Irwin and Olga Thompson, centre, proud winners of TripAdvisorís 2015 Travellersí Choice Award, being congratulated by, left, Rosato's bar restaurant owner Eddie Harkin and John McDaid of Inish Fusion, right.
Proud winner, Irwin Thompson, said the success of their B&B was also helped by Inishowen Lodge's strong working relationship with two top local restaurants, Rosato's and Inish Fusion in Moville.
The talented trio of local businesses work together as a "tourism team" to give visitors a unique and memorable experience of their visit to the Inishowen Peninsula.
"This Moville tourist team, working together, is committed to providing the real Inishowen experience and promoting Moville as a tourist destination," said Irwin.
To visit Inishowen Lodge website, click here .