Exotic Hoopoe bird touches down in Ireland
15.04.15
THE biggest influx of a rare and exotic bird seen for 50 years is happening along the coast of Ireland.
The stunning Hoopoe has birdwatchers aflutter with sightings of the colourful creature reported in recent days in Limerick, Kerry, Cork, Waterford and Wexford.
BirdWatch Ireland said bird lovers in Co Donegal might also be lucky enough to get sightings.
The Hoopoe is a distinctive cinnamon colour and is notable for its zebra-striped wings and crest of head feathers which fan open upon landing.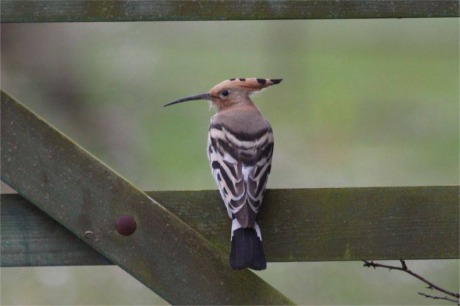 Photo of Hoopoe by Jimmy Murphy posted on the BirdWatch Ireland Facebook page.
At least 45 of the birds have been recorded so far and experts believe these "exceptional" numbers could be on track to match or exceed a similar influx in 1965 when some 65 were spotted here.
Ireland typically sees less than ten Hoopoes a year.
BirdWatch Ireland field worker Niall Keogh said the Hoopoe is typically associated with warmer regions such as continental Europe and north Africa.
"A small number of Hoopoes, usually less than ten birds in total, are recorded in Ireland most years in early Spring or late Autumn when migrating birds accidentally stray off course," said Mr Keogh.
"The recent high pressure system which stretched up from southern Europe probably led to many Hoopoes 'overshooting' - that is migrating too far, and ending up on the south coast of Ireland," he added.
The Hoopoe, which is the national bird of Israel, is typically about 12 inches long with a wingspan of about 18 inches.
It favours sunny patches of short-cropped, dry grassland such as well-kept lawns and golf courses where it uses its long, thin bill to eke out insects including beetles, ants and crickets.
One of its most characteristic features is its undulating pattern of flight, that birdwatchers typically describe as like a large butterfly in motion.
The Hoopoe gets its English name from its distinctive oop-oop calling card.
Mr Keogh urged people to report any sightings to BirdWatch Ireland along with the date and location.
"Please keep an eye out for this superb bird and let us know if you are fortunate enough to see one," he said.
Sightings can be reported via email to info@birdwatchireland.ie or by phoning 01-2819878.