Gay Byrne launches Donegal tourism brochure
13.03.15
BROADCASTING legend Gay Byrne was guest of honour yesterday when he launched a new tourism brochure for Donegal.
Gay and his wife Kathleen, who have a holiday home in Donegal for many years, were in the county to promote a new Donegal Tourism brochure and accompanying app.
Gay's message to the people of Donegal was to "continue to smile and welcome every visitor as a friend of the county".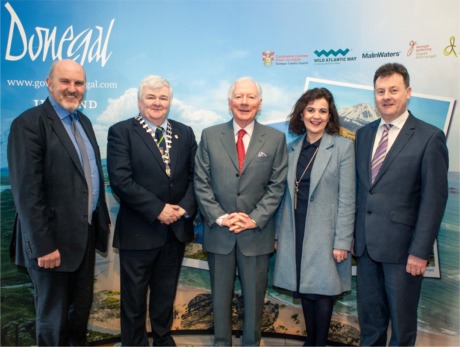 Anthony Doogan, Inishowen Development Partnership, Cllr Nicholas Crossan, Donegal County Council, Gay Byrne, Joan Crawford, Failte Ireland and Seamus Neely, Donegal County Council pictured at the launch of the new Donegal Tourism brochure and app.
Donegal Tourism chairman Seamus Neely said the 58-page brochure beautifully captured the "diversity and majesty" of Donegal.
"Over 20,000 copies of this brochure have been printed and distributed worldwide and a PDF version has also been circulated to many tourism providers for inclusion on their websites," he said.
It has more than 40 different themes and headings from popular activities, such as surfing, golf and angling to unique Donegal amenities and resources, such as local produce, the islands, festivals and the Gaeltacht.
It also offers the visitor six recommended touring routes for different regions of the county in addition to the newly-developed Wild Atlantic Way route.
For more information see www.govisitdonegal.com .