Sun care message for Donegal GAA fans

26.06.15
DONEGAL GAA fans have been urged to take 'Care in the Sun' as they support the home side this summer.
Ulster GAA and Cancer Focus Northern Ireland have joined forces to promote the sun care message to GAA players, mentors and fans this summer.
While the temperatures have yet to soar to levels seen in past years, the organisations want members to understand the importance of taking care in the sun – even in Ireland where the weather may not be sizzling but skin cancers are increasingly common.
More than 100,000 fans will travel to venues across Ulster to cheer on their counties in the senior football and hurling championship, with tens of thousands more attending club fixtures throughout the summer months.
They have been urged to wear sunscreen - minimum SPF of 15 for UVB protection and 4 star for UVA protection, seek shade when the sun is at its strongest, cover up with a long sleeved T-shirt, sunglasses and a hat, and check skin regularly for any changes.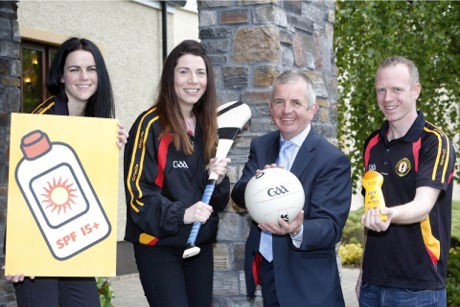 Gerry McElwee, head of cancer prevention at Cancer Focus NI is joined by Ulster GAA's Maura McMenamin, Aileen Cummins and Fionntan O'Dowd to promote the 'Care in the Sun' message throughout the summer.
Ulster GAA president Martin McAviney said: "Our relationship with Cancer Focus Northern Ireland has been extremely beneficial for the GAA membership. The provision of sunscreen for our summer activities is a much-welcome initiative which will help our match day patrons enjoy the sun in a safe manner."
Gerry McElwee of Cancer Focus Northern Ireland added: "The majority of our population have fair skin, which provides little protection against the sun, so even a small amount of sun can cause serious skin damage over time and may lead to skin cancer."