McDaids laughing after Kevin Bridges tweet

07.05.15
A DONEGAL drinks company is laughing after getting a plug from one of the UK's top comedians.
Kevin Bridges (28), who has nearly one million Twitter followers, tweeted his delight at finding the soft drink, Football Special, on sale at his local cafe in Clydebank, Scotland.
"Good to see this fine brew has made it over to Clydebank from Donegal! @The_glen_cafe Yaldy!" the comic told his followers.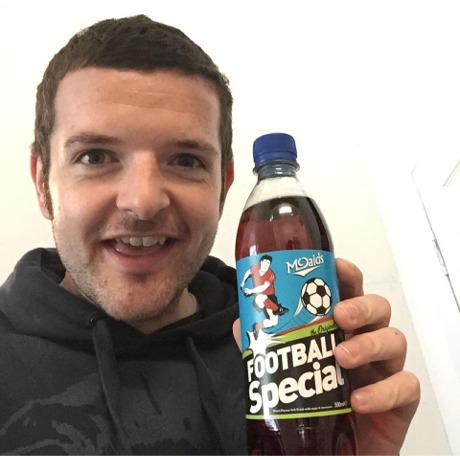 Kevin Bridges enjoys his Football Special.
Football Special has been made by McDaid's of Ramelton, Co Donegal, since the 1950s.
The dark-red drink, which is made to a closely-guarded secret recipe, was originally created to fill winning trophies on big match days.
But while iconic among Donegal people, it has only recently been sold outside the county.
Marketing manager, Samantha Lynch, said the craft drinks company was delighted to discover that the award-winning comedian is a fan.
She said the comicís tweet was a particular boost since the drink has only been available in his native Scotland since February.
"We are thrilled that Kevin Bridges likes our product and we're very happy at the endorsement it gives to the brand so soon after we started branching out with it," said Ms Lynch.