Our survey said...well done Majella and family!

02.02.15
A DONEGAL depression charity is almost €40,000 richer today thanks to a big win by Majella O'Donnell and her family on a TV gameshow.
Donegal Mind Wellness was founded by Majella and a number of volunteers last year.
It was the chosen charity when she, husband Daniel, her children Siobhan and Michael and Daniel's niece and PA Trish Doogan appeared on Family Fortunes last night.
They were pitted against television presenter Helen Skelton and her family on the popular ITV show.
The delighted couple were clearly emotional to win so big for the fledgling Donegal charity.
The O'Donnell clan showed great team work in reaching the all-important final with Majella going first to compete for the big money while Daniel sat in the sound-proof booth.
She and Daniel managed to win the £10,000 but then topped it up with a whopping £20,000 by getting the fantastic five top answers.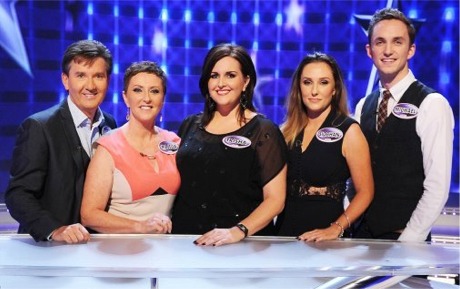 Daniel and Majella O'Donnell pictured on Family Fortunes with from left Daniel's niece Trish Doogan and Majella's children Siobhan and Michael.
Majella cringed when she chose 'pigeon' as her answer to the question: name a bird that people eat. But Daniel flew to her rescue by getting the top answer 'chicken'. Majella needn't have worried however, because she managed to get several other top-scoring answers.
Ironically, 'tweeting' about her bird shame later, Majella quipped: "Where I got pigeon from I will never know?! Delighted for charity #donegalmindwellness."
Meanwhile, the family received floods of good wishes on their win.
Donegal Mind Wellness has been set up to help people with depression and other mental health issues.
Writing on its website Majella writes: "Since I moved to Donegal in 2002 I have grown to love the place and the people. The Donegal people are very honest, genuine and hard working. Donegal is a remote county that has suffered more than its fair share from unemployment, depression and suicide. My aim is to be able to help people throughout the county to help themselves be more positive and hopeful and to find ways to deal with everyday life which can be very tough especially for those who are isolated or living alone." You can contact the charity at 086 0298907 or email donegalmindwellness@gmail.com .