Donegal Film Office launches new website

19.01.15
IRISH actor Sean McGinley returned to his native county on Friday to launch a new website aimed at attracting more movie-making to Co Donegal.
The launch of the Donegal Film Office website took place in the beautiful surroundings of Glenveagh National Park.
The Inishowen-based film office is part of Donegal County Council and has been operating since 2003. It has been instrumental in bringing productions such as 'A Shine of Rainbows' starring Aidan Quinn and the cult horror flick 'Grabbers' to the peninsula.
It works in co-operation with the Irish Film Board and participates in a network of regional offices countrywide.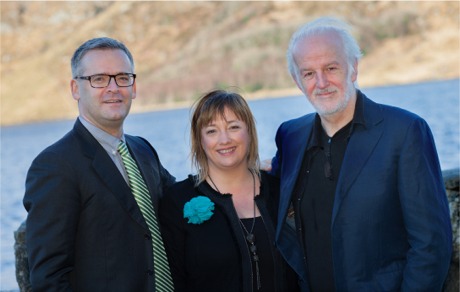 Donegal Film Office manager Aideen Doherty pictured with Naoise Barry of the Irish Film Board, left, and Ballyshannon-born actor Sean McGinley, at the launch of the Donegal Film Office website at Glenveagh National Park.
Manager Aideen Doherty said the website had been developed "to profile and market" the county to the film and media sector.
"The website has information on the office and the resource that it provides to support film makers when they locate in the county," said Ms Doherty.
"It contains details on local film and media courses available at LYIT and it provides images of a range of locations throughout the county including beaches, lakes, historical monuments, mountains, castles and homes and so on. It also has a production resources section that will be developed once launched".
She said she hoped the website would become the 'go to' site for location managers interested in finding information on Donegal.
The Irish film industry is estimated to be worth more than €550 million and employs more than 6,000 people. More information at www.donegalfilmoffice.ie .