Darren Clarke in "ruff" with puppy giants

05.01.15
GOLFER Darren Clarke knows it can be a bit "ruff" raising two Irish wolfhound puppies.
The sports star posted a photo yesterday of his eldest son Tyrone (16) trying to train the family's cheeky giants with some tasty treats.
The adorable pets would clearly dwarf another owner not reaching the teenager's six-feet plus in height.
"Tyrone trying to get the pups to behave! Good luck with that," the Major winner told Twitter followers.
One amused fan responded: "You'll need to get a bigger house in five years - stables perhaps!"
The golfer (46) took delivery of the puppy pair, named Cain and Thor, last year after the death of his beloved older wolfhound, Obi.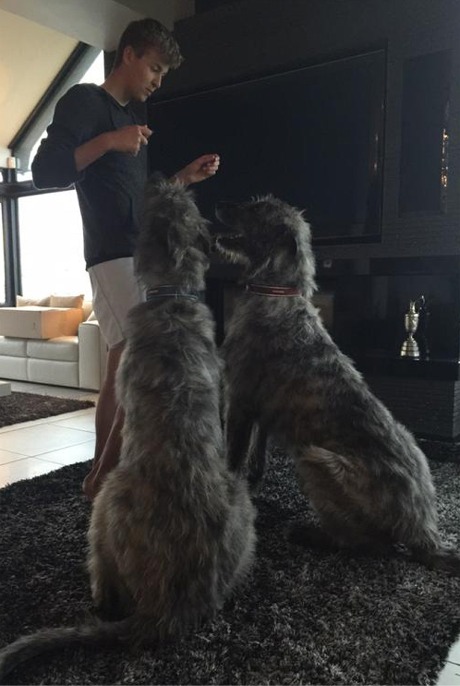 Tyrone trains the family's one year old Irish wolfhounds Cain and Thor.
The pets, who are brothers, are just over a year old and are proving quite a handful in the Clarkes' Portrush, Co Antrim, household.
Irish wolfhounds are the tallest of all dog breeds. They can reach seven feet in height standing on their hind legs.
Another famous specimen that made headlines last year was 'Domhnall of Shantamon', the official mascot of the Irish Guards army regiment in Britain.
Domhnall was presented with a new ceremonial red coat by President Michael D Higgins during his historic state visit to the UK in April.