Daniel gets "notches on his belt" on Strictly
23.10.15
DANIEL O'Donnell has admitted getting new notches on his belt after his stint on Strictly Come Dancing - but wife Majella need not be jealous.
The notches weren't caused by the infamous 'Strictly curse' – it is just the amount of weight he lost during his four-week run on the gruelling dance competition.
However, Daniel (53), who will appear on 'The Late Late Show' tonight (Friday), said he ate more food than usual to keep his energy up while learning to dance.
"I did lose a bit (of weight). I have two notches on the belt that are moved up and that's in four weeks, so that's not bad," he quipped.
"And I ate more than ever I've eaten."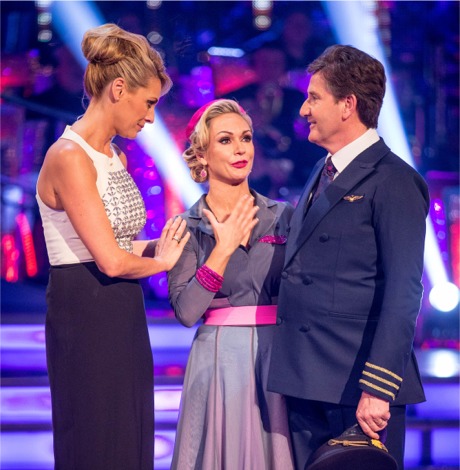 Daniel O'Donnell leaves the competition. L-R Tess Daly, Kristina Rihanoff and Daniel O'Donnell. Photo: BBC/Guy Levy.
The Donegal singer, who was the third celebrity to be voted off the BBC show, also said he found it difficult keeping his involvement in the programme a secret from April to August.
And he regrets not using the four months in between to take some dance lessons.
"I did nothing and now I wish I had taken some dance lessons. I thought that I wouldn't be allowed to do that but I'm sure I could have.
"I wish that I had taken some lessons to get a bit more comfortable with dancing," he told BBC Radio.
He said he liked all the judges but was most surprised at how nice Craig Revel Horwood actually is behind the scenes. "He comes across so cutting at times and back-stage he is just fantastic," he added.
Daniel is now looking forward to a month-long break at his holiday villa in sunny Tenerife in November with wife Majella. They will be joined by their three-month old grand-daughter Olivia and her parents Siobhan and Gavin.
Meanwhile, the Kincasslagh native will join a galaxy of popular Irish singers for a special country music edition of 'The Late Late Show' tonight.
He will chat about becoming even more of a household name in the UK since his Strictly run and he will give a special performance of one of his most popular tracks.
Other big names on the country scene set to appear include country veteran Big Tom, Mike Denver, Philomena Begley, Ray Lynam, Declan Nerney, TR Dallas and Lisa McHugh.
The Three Amigos – Jimmy Buckley, Robert Mizzell and Patrick Feeney - will also reunite for the special.
"We have been actively promoting the country scene on 'The Late Late Show' for the last six years, bringing classic acts to a new generation and introducing the big new names. Getting all those people into one room is going to be lots of fun," said host Ryan Tubridy. The Late Late Show is on RTE One on Friday at 9.35pm.