IT was game on for Daniel O'Donnell this week when he dropped in to play draughts with his 104 year old Donegal neighbour Hughie Sweeney.
Hughie may be almost twice the age of Daniel (53) but the centenarian is clearly a dab hand when it comes to the tricky game that involves forward thinking and strategy.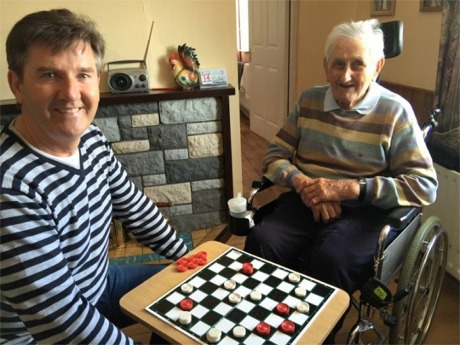 Hughie (104) gives Daniel a masterclass in draughts.
The Kincasslagh entertainer delighted fans by posting a photo of the checkers game on his Facebook page which has almost 50,000 likes.
"Two legends," wrote one fan while one of Hughie's grand-daughters appears to give the singer a word of warning: "I have never able to beat Granga (sic) at draughts so good luck Daniel!" she quipped.
The singer took time out with his elderly friend as he and wife Majella (55) travel around the country on their B&B road trip for UTV Ireland.
The couple have been enjoying the hospitality at guesthouses while trying out lots of leisure activities such as Segway rides; paddleboarding and deep sea fishing.