"I almost gave up singing" - Daniel

12.12.15
DANIEL O'Donnell has revealed he almost gave up singing because he was struggling financially to survive.
The millionaire singer, who celebrates his 54th birthday today (Saturday), said he couldn't make ends meet in the mid-1980s and came close to giving up on his musical dream.
"I made the first record in 1983 but it took until about 1986 for things to gain momentum," he said.
"But I had thought about giving up in 1985 because you needed to have some kind of focus. It was very difficult to financially survive and then all of a sudden it just happened," he said.
The popular country crooner had previously studied accounting, economics and maths as part of a college business course and thought he might become a teacher.
But things eventually turned around when his single 'My Donegal Shore' began to get a lot of airplay and subsequently became a huge hit.
He was also taken on by a manager and began to get higher-profile gigs.
He started to move further up the billing at musical festivals until he became the headline, closing act.
Daniel was speaking on a one-hour special on BBC Radio Leeds.
He said that meeting wife Majella (55) in 1999 brought huge contentment in his personal life.
"We found that we were made for one another. We are very fortunate. It has really enriched my life so much since I met Majella," he added.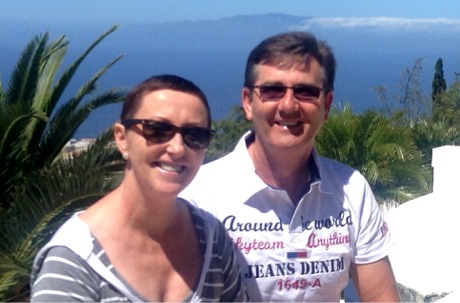 Majella and Daniel pictured at their holiday villa in the Canary Islands.
Recently becoming a step-grandfather to baby Olivia has also brought great happiness to the family.
"She is just the joy of our lives. We just love her, there's no doubt about it."
Meanwhile, Daniel said Majella was an inspiration to him during her breast cancer battle which began in the summer of 2013.
"She was very positive and she just got on with it and focused on getting better. She was adamant that I would keep touring because we had shows planned.
"She said 'no, we are not going to cancel anything. Life has to turn because if we stop everything, cancer is in charge (but) if we keep going, we dictate'. So that's what we did," he said.
The best-selling Kincasslagh performer also revealed that Majella's decision to have her head shaved live on the Late, Late Show - during which she raised more than 600,000 euro for the Irish Cancer Society – helped in her recovery.
"I think that was a big part of her recovery even though she was only starting her chemo. It gave her a great, positive focus in the middle of it all," he said.
The former Strictly Come Dancing star said he has no special plans for his birthday today except he would travel to the RTE studios to record a Christmas special for St Stephen's Day.