Danielís senior superfans camp out for tickets

16.11.15
MOVE over One Directioners - veteran Daniel O'Donnell fans are giving the young ones a run for their money by camping out all weekend for tickets to see their idol.
Armed with flasks of tea, blankets, pillows and sleeping bags, the crooner's senior super-fans pitched up at venues across the UK since last Thursday for concerts that won't happen until SEPTEMBER 2016!
Travelling miles to get there, they queued despite the cold November chill at various locations including Bournemouth.
Others planned similar adventures throughout the weekend in Nottingham, Croydon and Glasgow.
The devoted fans kept their spirits up by playing their favourite Daniel songs and sharing stories on social media.
Mega-fan Jacky Orriss travelled 166 miles from Essex to spend two nights queuing outside Bournemouth International Centre.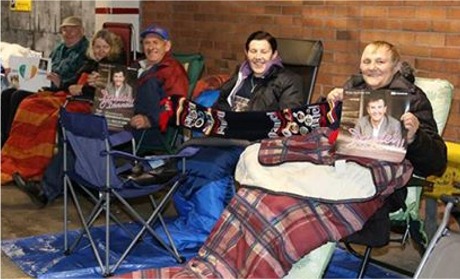 Danielís superfans camp out for tickets.
Wrapped up in a Daniel O'Donnell scarf, warm coat and sleeping bag, she said the happy crowd weren't too bothered about the winter weather.
"Having a great time in the queue playing Daniel's music. Great to catch up with friends and made lots of new ones," she said.
Another devotee, Lynn Sowter, described how her ticket odyssey would shape up.
"I'm going (Saturday) from Ashbourne (at) 6.35am bus to Derby then get Red Arrow to Nottingham - should be there just before 8am," she said.
Daniel (53) will return to the stage with his comeback tour in Killarney, Co Kerry, in August 2016.
Meanwhile, his fans' devotion hasnít gone unnoticed by the Donegal crooner who shared their photos on his official Facebook page. "Hope the weather doesn't get too cold tonight," he said.