Highest gust of Storm Clodagh in Donegal

02.12.15
DONEGAL suffered the highest gust of Storm Clodagh at the weekend, statistics show.
Met Eireann's Climatology and Observations Division has crunched the numbers and has released Clodagh's vital statistics.
The figures reveal that the third storm of this winter was fast, furious and long-lasting.
The highest gust - 120km/h - was recorded at Finner Camp, Co Donegal at 4pm on Sunday while parts of Co Galway were buffeted by average gusts of 88km/h which continued for a period of 12 hours.
That was 'Clodagh' - the tail of which was still being felt in parts of the west coast yesterday. And we've already met storm 'Abigail' and 'Barney'.
But what about the next 18 storms that come our way.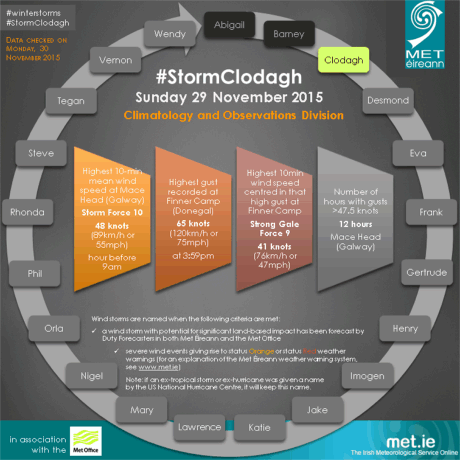 A graphic released by Met Eireann's Climatology and Observations Division on Storm Clodagh from Sunday, November 29, 2015.
They will be nick-named Desmond, Eva, Frank, Gertrude, Henry and Imogen.
Then we will meet Jake, Katie, Lawrence, Mary, Nigel, Orla, Phil, Rhonda and Steve. After that it will be Tegan, Vernon and Wendy.
The names were chosen last October by Met Eireann in association with the UK Met Office as part of a 'Name our Stormsí pilot project.
The initiative, designed to ensure greater awareness and public safety during storms, invited the public to christen wind storms similar to the practise in other countries such as the US.
A wind storm is named when it meets a number of criteria, according to Met Eireann's Climatology and Observations Division.
It must have the potential for "significant land-based impact" and be sufficient to give rise to a status Orange or status Red weather warning. Heaven help us when Storm Katie gets in the ring!