"It was a privilege to know Cilla" - Daniel

25.08.15
DANIEL O'Donnell has said it was a "privilege" to know the late Cilla Black both professionally as a singer and privately as a friend.
The Donegal entertainer (53) said he and his wife Majella (55) were deeply saddened at the Liverpool legend's sudden passing at the age of 72 earlier this month.
"I first met Cilla many years ago when I appeared on her TV show 'Surprise Surprise' and through the years I got to know her and her husband Bobby on a professional level.
"In latter years, I had the privilege of getting to know her a little better, meeting her in more private surroundings with our good friend Cliff Richard and she was always a joy to meet," he said.
"Both Majella and I always enjoyed her company and she added so much to the gatherings that we were part of. We will certainly miss her in the future," he added.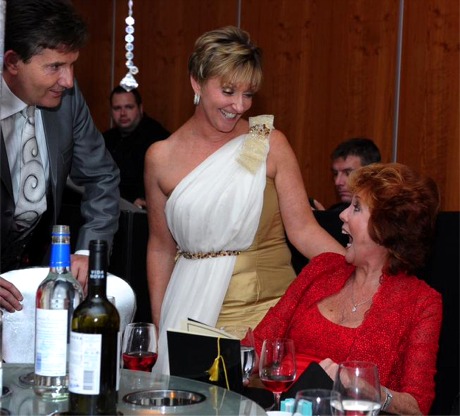 Surprise, Surprise: Daniel and Majella meet up with Cilla in happier times.
Daniel, who attended Ms Black's funeral with Majella last week, said she received a fitting send-off in her native city.
"She had a lovely funeral service and a wonderful send-off from the people of Liverpool," Daniel told fans yesterday via his official website.
"This was nothing less than she deserved because, as the papers said, she was their 'Cinderella' and never forgot where she came from.
"I was absolutely delighted to see her album go to Number 1 in the UK charts, somehow a fitting tribute to the star that she was.
"I thought that the nicest quote that was said was 'To be born a lady is an accident; to die one is an achievement'."
He extended his sympathies to Cilla's sons Ben, Robert and Jack and her extended family.
Meanwhile, the Kincasslagh favourite, who is on an 18-month sabbatical from touring, admitted he is "terrified" after signing up for the forthcoming series of BBC hit show 'Strictly Come Dancing'.
"I suppose I could say I am excited and terrified all at the same time. I know I will enjoy the opportunity of learning to dance Ballroom and Latin dances properly and I hope that I stay long enough to perfect at least some of them," he said.
"Who knows I might be there till Christmas and I might even get to lift the glitter ball trophy. Well, I have to think positively! he quipped.