Castaways off again to uninhabited Rockabill Island

06.05.15
A SUMMER job that involves being attacked every day by angry Irish birds might make some people take flight.
But not wildlife warden Brian Burke, who is off once again to monitor the endangered roseate tern seabird on Rockabill Island, seven kilometres off the north Dublin coast.
Admittedly, Brian (26) will earn 400 euro a week and get free accommodation on the remote rocky outcrop that is smaller than a football pitch.
But the BirdWatch Ireland warden will forego all his usual home comforts, will rely on a generator for electricity and will suffer severe pecks by thousands of screaming birds for three months. He will also have to endure the incessant showers of bird droppings that rain down daily on the important colony.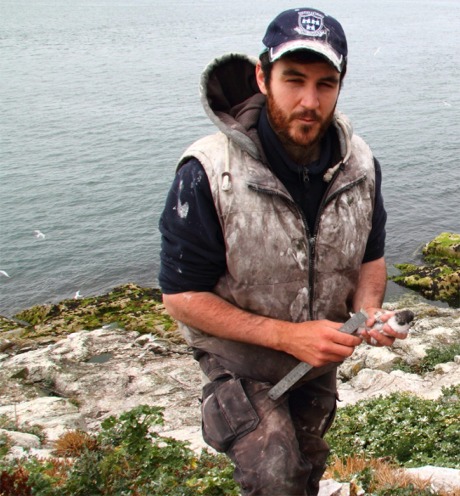 BirdWatch Ireland warden, Brian Burke, measures a tern chick on Rockabill during the 2014 breeding season.
Brian will be joined on the island by a different colleague this year as last summerís co-worker, Donnacha Woods from Wicklow, is working abroad.
His co-castaway will be Carlow ornithologist, Andrew Power (27) who has extensive experience on other BirdWatch Ireland tern projects.
The two men will meet for the first time when they board the boat for Rockabill, weather-permitting, tomorrow (Thursday).
Brian admits to being a "glutton for punishment" in signing up for a second stint adding that Rockabill is a far cry from his native - and inland - Roscommon Town.
"I switch between being really excited about going back and then thinking to myself, what am I doing? But I know that once I get out there, it will be great and I'll enjoy it. It's a fantastic project so to get a chance to do it a second time is great," he said.
He admits that being single also allows him the time and flexibility for the unique undertaking.
The two ornithologists will install nest boxes for the migrant roseate, common and Arctic terns during the critical May to August breeding season.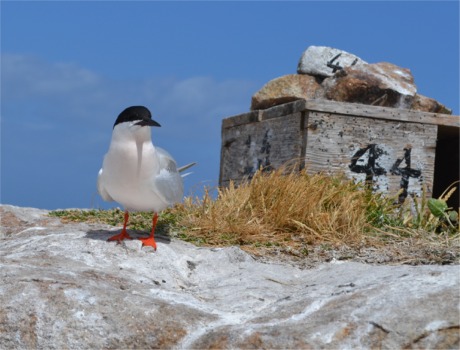 A roseate tern at a nestbox installed by BirdWatch Ireland wardens.
They will also aim to protect the 7,000 breeding adult seabirds and their 10,000 chicks from predators.
Rockabill is home to the majority of Europeís population of roseate tern, which is a threatened species worldwide.
Project co-ordinator, Dr Stephen Newton, says the Rockabill job is vital for the birdsí survival but is not for everyone.
"This is very specialised work and Brian and Andrew have a lot of experience working with terns. They also need to be able to deal with the remoteness of the island because they are more or less on their own for three months. I visit occasionally but they have to be proficient in self-survival and keeping their spirits up while also getting on with the job," said Dr Newton.
Meanwhile, Brianís shopping list for the summer ahead looks something like this: 40 packs of chocolate biscuits; 100 packs of noodles; 50 euro's worth of pasta; jumbo bags of teabags and super-jars of coffee; box sets including 'Firefly' and 'Vikings'. And letís not forget his droppings-splattered work jacket and hat which remain on the island from last year.