Altan: "We depend more on gigs for our living"

06.01.15
DONEGAL traditional band Altan have revealed they can no longer rely on big record labels to get their music out to fans.
The five-piece group, who have been performing for nearly 30 years, said they now depend more on live gigs for their livelihoods.
And the band, who turned to fans last year to crowd-source the cash for their latest album, revealed that they successfully reached their financial target, three days ahead of schedule.
"The music business is a changing world for professional musicians as ourselves.
We depend more on live concerts to make our living.
"We can no longer depend on big record company funding to get our music out there, we have to do it ourselves," Altan told fans.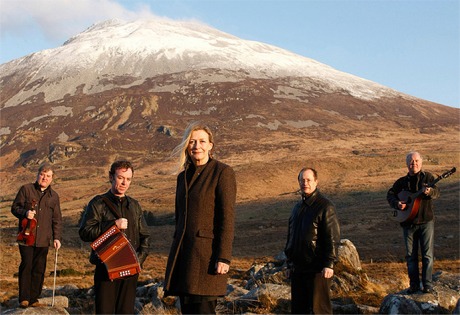 Altan.
The group, featuring Gaoth Dobhair fiddle player Mairéad Ní Mhaonaigh and Buncrana fiddler Ciaran Tourish, signed up last year with PledgeMusic to raise enough money to record their new album in Nashville.
"With three days to go, we have reached 100 per cent of our PledgeMusic campaign towards the costs of our new recording. Now with your help we have funded our latest album which we are really happy with. We are delighted and humbled by your generosity," Altan told Facebook followers on Saturday.
The band have licensed the new CD to Compass Records in the US., with a release date expected in the Spring.
Fans who signed up for the band's crowd funding initiative were offered a wide variety of unique experiences and products ranging in price from 10 euro to 2,500 euro. They included the chance to sing a song on stage with the band for 1,000 euro; a signed musical instrument for 1,000 euro; a recorded phone message for 100 euro; a performance via Skype for 120 euro and an exclusive live concert in a fan's own living room for 2,500 euro.