Moth-er nature at its best in Buncrana
07.07.14
A WHOPPING 35 different species of moth were revealed during a unique wildlife event in Buncrana at the weekend.
The newly-formed Wild Inishowen group ran a field trip to explore the exciting and varied species of moths in the area.
The gathering was delighted at Ned's Point on Saturday as local moth experts George McDermott and Karl King focused on opening traps set the previous evening.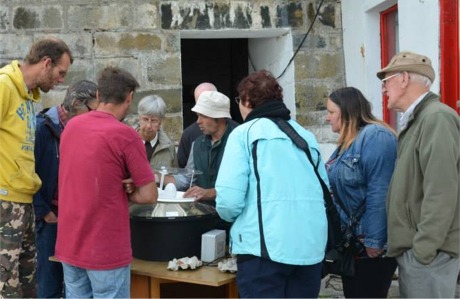 Buncrana man George McDermott, aka the town gardener, explains details of the poplar hawk moth. Photo: Wild Inishowen Facebook
The damp conditions on Friday "being perfect for a good cache of moths". Among the 35 different species revealed to the excited gathering included the stunning elephant hawk moth; scallop shell moth; buff arches; peppered moth; clouded border and poplar hawk moth.
"George and Karl were both on top form, giving a brilliant and informative talk and were both extremely generous with their time in talking through all the different moth finds. "There was also plenty of space for everyone to photograph and indeed hold some of the amazing species on show, which made it very special for many people and for us as well," Wild Inishowen told the growing number of followers on its great Facebook page .