US Embassy delegates visit Inishowen
12.03.14
DELEGATES from the US Embassy visited Inishowen earlier this week to see the impact of a number of local peace-building projects.
Senior political advisor Lynne Gadkowski and political affairs advisor Peter Glennon were guests of Donegal County Council.
"This visit provided an opportunity for delegates to gain an insight into some of the innovative projects funded under the PEACE III Programme in Donegal, giving them a flavour of the peace building work accomplished locally and the impact that this work has had on local communities on both a cross border and cross community basis," said a council spokesperson.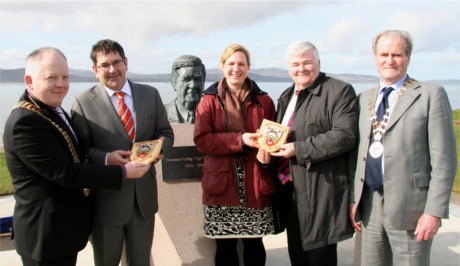 Mayor of Buncrana Cllr Peter McLaughlin makes a formal presentation at the Tip O'Neill monument in Buncrana to US Embassy delegates Peter Glennon and Lynne Gadkowski. Also pictured are Cllr Nicholas McCrosson, chair of the Tip O'Neill Irish Diaspora Award and Mayor of Donegal Cllr Ian McGarvey.
The delegation visited the Tip O'Neill monument in Buncrana, the Fort Dunree Military Museum, Inch Levels as well as the Regional Cultural Centre in Letterkenny.
Among those to officially welcome the delegates were Mayor of Donegal Cllr Ian McGarvey; Cllr. Dessie Larkin, chairperson of the Donegal PEACE III Partnership; county manager, Seamus Neely and Michael O'hEanaigh, director of Community, Culture and Planning at Donegal County Council.