Donegal to get up to €1.4m for storm damage
03.03.14
DONEGAL County Council is to be allocated up to €1.4 million for repairs caused to the coastline by the New Year storms, an Inishowen councillor has revealed.
Labour's Cllr Martin Farren welcomed the progress in sourcing the funds and said the funding would begin with a once-off payment of €150,000.
"Letters were issued on Thursday to the seven worst affected local authorities detailing funding arrangements up to specified levels of allocation for repair and restoration programmes arising from the early phase of severe weather. The repair funding ceiling for Donegal is €1.380 m with a once-off reimbursement of €150,000," said Cllr Farren.
The sum allocated is in line with funding requests made except that requests for funding of new coastal protection works have been separated and forwarded to the OPW for consideration," he added.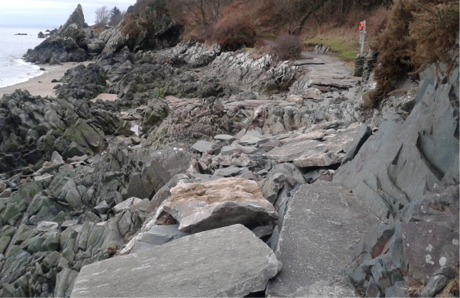 The storm-ravaged shore paths at Greencastle..
Councillor Farren commended the prompt response by county council staff who quickly got to work inspecting and costing repairs to the damages in Donegal and getting repair estimates submitted quickly to the National Directorate for Fire and Emergency Management.
"This section has been working with local authorities since the storms to compile a comprehensive picture of the damage and the costs associated with the severe weather. They presented their first-round findings to Government on February 11 and the allocations above are the result.
They are still working to compile a similar picture for damages in the period from January 27 to February 17. This report will be presented to Government on March 4 for a decision at the end of March."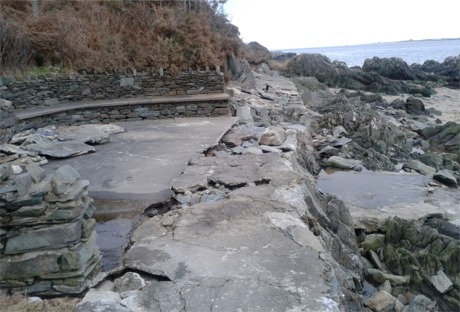 The storm-ravaged shore paths at Greencastle.
He said said repairs to the shore paths in his Moville-Greencastle constituency would be accomplished by a combination of works by contractors and by voluntary schemes.
"The local community scheme workers in Moville and Greencastle have already made a start by clearing away damaged areas, by preventing further erosion and by commencing repair works. The permission of local landowners has been secured for access to repair sites. Tenders for repair works will be going out to contractors this week and they will have two weeks to respond.
"This could allow works to commence as early as the end of March." Cllr Farren said he would raise the issue at tomorrow's local electoral area meeting in Carndonagh to ensure that works on the shore paths get underway as soon as possible.
"It is important that these amenities are restored quickly and the response from the local community so far is that everyone is willing to co-operate to achieve the best outcome from the funds made available."