Donegal counts cost of storm damage
06.01.14
DONEGAL is counting the cost of storm damage as severe weather washed away coastal roads and popular local amenities over the weekend.
And, the Irish Coast Guard has advised members of the public to avoid exposed coasts, cliffs, piers and beaches during treacherous conditions.
Councillors and local representatives are being inundated with calls from the public about the damage to their local communities around the county and peninsula.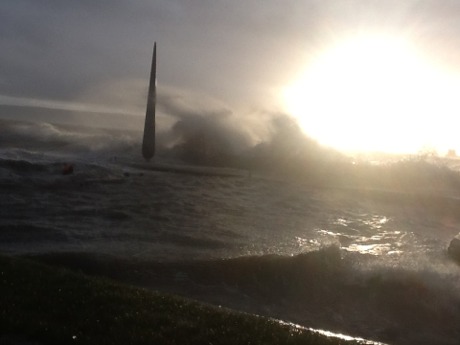 Severe storms flood Moville Pier at the Fid monument. Photo: Anthony Doogan.
Buncrana, Moville and Greencastle were among areas bearing the brunt of the damage with many seaside walkways, shore paths and car parks destroyed in high waves.
Large stretches of the shore path from Moville to Greencastle look as though they were struck by an earthquake with concrete paths ripped up. Bathing boxes dating back to the late 19th century were also extensively damaged. The tarmac upper car park at Lisfannon was washed away and has been cordoned off.
Donegal County Council is now facing huge demands from all over the county for both financial and personnel resources to fix the damage.
Inishowen Fianna Fail local election candidate Mary McCauley described as "significant" the storm damage done to the Moville and Greencastle shorefront walks "As a director of NE Inishowen Tourist Co., whose FAS Community Employment Schemes have worked for over 20 years in association with Donegal County Council to maintain the walks, I can assure the local community that we will do our utmost to assist in any repair and upgrade works that are necessary.
"The scale of the damage is substantial and will require an enormous amount of Government capital injection," said Ms McCauley.
"I strongly urge councillors, TDs, council officials and community leaders to come together to ensure that these popular and invaluable local amenities are restored and fully operational as soon as possible. This has to be the number one priority for this area."
Meanwhile, Taoiseach Enda Kenny expects the Cabinet to be briefed on the extent of the damage caused by last week's flooding. There have also been calls for a central Government fund to help with the costs of damage to homes, businesses and infrastructure.
To view more images click here .