Snow Patrol star tries to pay for Courteney gift
27.07.14
by Linda McGrory

FRIENDS star Courteney Cox and her rock star fiance Johnny McDaid have been given matching rings charting the colourful and complicated history of his native Derry city.
The A-list couple received the exclusive gifts from D. Cooley Jewellers in the city after the celebrity pair dropped in during their Irish holiday.
A video clip posted on the jewellers' Facebook page showed the happy couple browsing a tray full of the shop's exclusive History of Derry rings, designed by the local shop.
Cox (50) is seen trying on different rings for size on her right hand as McDaid (38) approvingly looks on.
However, it's clear that the gentlemanly Snow Patrol star would rather pay for the rings rather than get them free.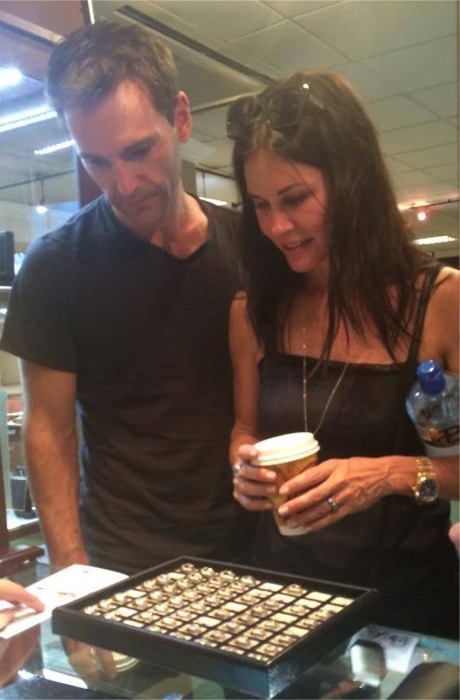 A-LIST celebrities are well accustomed to being lavished with free gifts but Snow Patrol star Johnny McDaid made valiant efforts to pay for a ring for his superstar fiancée Courteney Cox in a shop in his hometown of Derry.
The beautiful bands range in price from £230 - £295stg in gold and from £55 - £75stg in silver.
They are engraved with symbols charting Derry's history - from its early monastic settlements to its famous 17th century siege, right up to its modern day civil rights movement.
Mum-of-one Cox, casually dressed in a black vest-top and white skinny jeans, is seen happily smiling and chatting with staff as they discuss the background to the impressive rings. Meanwhile, McDaid attempts to pay for the jewellery.
"Well could I buy the rings from you?" he asked. "Please, no, please, please let me, I'd really like to," he insists.
But the jewellery shop staff won't hear of it. "No we're giving them to you," the young counter assistant insists.
The local shop is now no doubt hoping the celebrity couple will use their matching Derry rings as their future wedding bands.
"Well we are all overwhelmed today in Cooley's as Courteney Cox and Johnny McDaid called in and we presented them both with our History of Derry ring," the shop told delighted Facebook followers.
Meanwhile, it's been rumoured that Cox and McDaid have been using their visit to scout for Irish wedding venues in either Derry or nearby Inishowen peninsula, Co Donegal. They visited Shrove beach near Greencastle and also called in to the beautiful Red Door restaurant, Fahan.
Numerous selfies featuring the actress graciously posing with scores of star-struck locals have been popping up everywhere on social media since their arrival last week.