College on alert to 'neknominations'
07.02.14
THE HEAD of Sligo IT has urged students to use social media positively to alert friends and leaders to dangerous internet crazes such as 'neknominations'.
President Professor Terri Scott said it was too easy for students to succumb to online pressure.
"It is all too easy for young people to fall prey to internet crazes. I welcome the widespread repudiation of this so-called (neknomination) challenge game but I also appeal to all students, actively, to use social media to alert your friends to its dangers and to keep your college and student leaders informed if you see any similar dangers appearing online," said Prof Scott.
She was speaking at the launch of a 'Healthy Campus' initiative at the 6,000-strong campus.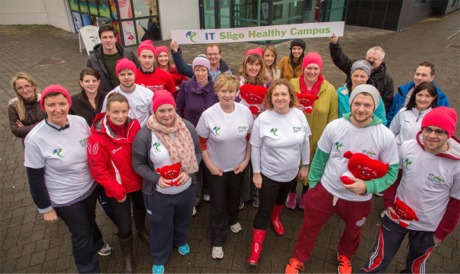 Prof Terri Scott, president, IT Sligo, (centre) alongside Yvonne Roache, IT Sligo Health and safety officer and Edel Byrne, national co-ordinator,Slí na Sláinte, Irish Heart Foundation (second from left) with some of the staff and students who joined in an inaugural walk around the new Slí na Sláinte route at Sligo IT.
The north western college, which has opened a 'Slí na Slainte' walkway, aims to be "a leader in creating a campus culture which nurtures the health and wellbeing of our staff, students and the wider campus community".
Students are being encouraged and facilitated to walk at least ten minutes a day around campus with their friends, to eat healthily and to mind their emotional wellbeing.
Prof Scott added: "The relevance of this project has been drawn tragically into clearer focus this week by the events surrounding Neknomination activity," added Prof Scott. She offered her sympathies to the family of Carlow teenager, Jonny Byrne, who died following a neknomination dare last weekend.