A s*** job but somebody has to do it
26.06.14
SOME summer jobs involve waiting restaurant tables while in some others you might expect to get your hands dirty.
But few positions require the employee to get defecated upon every day with the droppings of 10,000 screaming seabirds.
Spare a thought so for Donnacha Woods and Brian Burke - the two intrepid BirdWatch Ireland wardens who are spending the summer working on Rockabill Island - seven kilometres off the north Dublin coast.
Rockabill hosts more than 80 per cent of north west Europe's population of roseate terns and some 50 bird species in total.
The adventurous duo are earning a salary of €400 a week and free accommodation in the island's old disused lighthouse. The living conditions are spartan but the sea views are "amazing".
They don't have a special uniform - just a hat and a hooded jacket strong enough to withstand the incessant peck of beaks and the torrent of bird droppings.
"It's hard in that you can't really go outside without being assaulted by birds or pecked on the head and defecated on," said Donnacha from Greystones, Co Wicklow.
Star tern: An endangered roseate tern takes a peck at BirdWatch Ireland warden Brian Burke as he works on Rockabill Island off the coast of Dublin.
"They attack you with both ends so that the hat provides some physical protection and unfortunately the jacket is for the other end," a laughing Brian, from Co Roscommon, told RTE.
The two men arrived on the island on May 6 and will stay until mid-August. Their work involves the monitoring and protection of the migrant roseate, common and Arctic terns during their breeding season.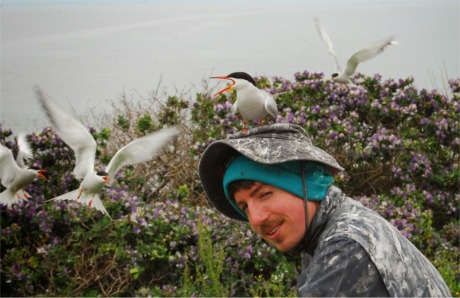 Hat'll do nicely: BirdWatch Ireland warden Donnacha Woods tries to check eggs while under aerial bombardment at Rockabill Island.
As part of their work, Brian and Donnacha have to carry out nest censuses, measure and weigh the young chicks and attach identifier rings.
They are also keeping fans updated with their 'Rockablog' in which they have described how much they are enjoying their challenging island adventure.
"To give you an example of how crazy things are getting, there's a dirt track down to two of our study areas that's roughly 10m long - this morning there were 31 eggs along it," they wrote in their blog.
"And not just at the sides but in the middle of the path too! So our egg-checks are like an obstacle course where we're trying to avoid standing on any eggs, while also dodging the aerial attacks of our feathered friends."