Real-life Rockabillies for dream wildlife work
15.04.14
by Linda McGrory

YOU could call them real-life Rockabillies. Two people are set to bag dream summer jobs monitoring seabirds on a remote rocky outcrop off the Irish coast.
Birdwatch Ireland has advertised for two wardens to study and protect the stunning roseate tern on Rockabill Island, seven kilometres off the north Dublin coast.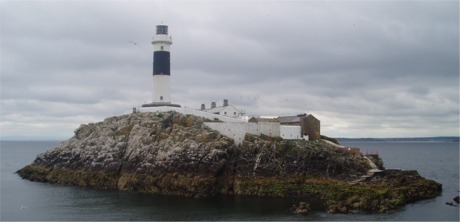 An island home: Rockabill Island and its working lighthouse where two wardens will work this summer.
The adventurous island castaways will get a salary of €400 a week and free accommodation.
But the jobs are not for the faint-hearted and sleepwalkers need not apply.
The wardens will literally be perched for three months atop a high rocky outcrop of two tiny islands holding just a working lighthouse, accommodation and "just enough room to stretch the legs". They can forget the pub, the shops and most home comforts and prepare to enjoy the company of thousands of seabirds swooping and swirling outside their front door. The work entails the monitoring and protection of the migrant roseate, common and Arctic terns during the May to August breeding season.
Birdwatch Ireland development officer Niall Hatch admits the work isn't for everyone but says it's a "feather in the cap" for anyone wishing to advance their careers in environmental or similar sciences.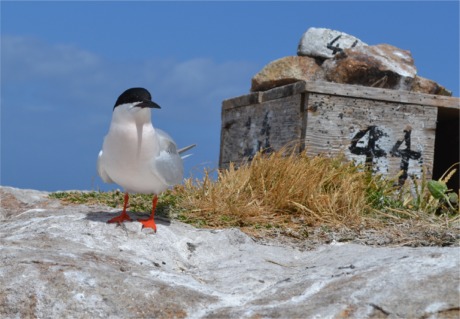 Star tern: The endangered roseate tern which breeds each year on Rockabill Island in the Irish Sea off the coast of Skerries.
"Rockabill is home to the majority of the European population of the roseate tern which is an absolutely stunning creature. It is one of the most important and most threatened world species that we have here in Ireland," said Mr Hatch.
He said the summer scheme which is open to both students and non-students had been running for some years with very keen interest again this year.
"It takes a certain kind of person to do this job because the location really is remote and tiny. Some people absolutely thrive in that environment but having screaming seabirds around you for 24-hours a day and being so isolated and away from home is tough and not for everyone. They need to have a hands-on, can-do attitude because it really is quite hard work."
The successful applicants will be dropped off by chartered boat with supplies at the start of the project. They will then be contracted for 42-hours over six days with two long weekends off the island, weather permitting. Closing date for applications is noon today, April 15, with interviews later this month. Applications can be sent to mkavanagh@birdwatchireland.ie .