"Unemployment most pressing problem" - President Higgins

15.09.14
UNEMPLOYMENT is the most pressing challenge facing people in Inishowen and the rest of Ireland, President Michael D. Higgins said on his weekend visit to the peninsula.
He was speaking during a visit to The Exchange social enterprise centre in Buncrana.
"As unemployment remains the most pressing challenge to be addressed in Ireland today, in particular long-term unemployment and youth unemployment, and in particular in border areas, it is important that communities can avail of schemes such as this one, which not only generate new possibilities for local economic activity by breaking the boundaries between the economic, the social and the cultural, but also, at the same time, create the conditions for all members of the community, even those without a job, to feel that they can fully participate in their society," said Mr Higgins.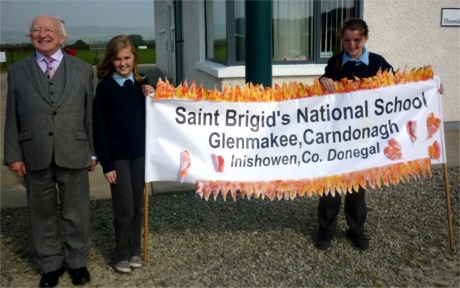 Children from St Brigid's N.S., Carndonagh, who were invited to form a guard of honour for the visit of President Michael D. Higgins.
"All parts of society and of the community can share in, and contribute to, our economic renewal. As the Action Plan for Jobs 2012 noted, there is a strong social enterprise base in Ireland, which, if developed, could have significant positive impact on job creation."
Mr Higgins also outlined some interesting statistics in relation to Ireland's non profit and social enterprise sector.
"Let us consider the numbers for a moment: the non-profit sector in Ireland, in its broadest sense, employs an estimated 100,000 people, generating an income of over €6 billion. Within this, the social enterprise sector employs between 25,000 and 33,000 people in over 1,400 social enterprises, with a total income of around €1.4 billion," he added.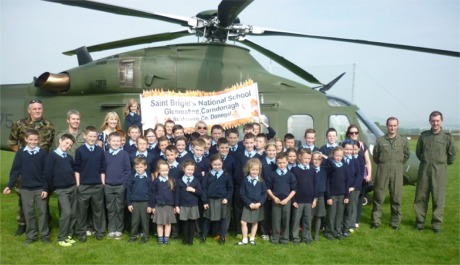 Children from St Brigid's N.S., Carndonagh, who were delighted to greet President Michael D. Higgins after his arrival by helicopter at the GAA pitch in Foden.
The Irish President enjoyed a very successful visit to several towns in Inishowen enhanced with beautiful weather which saw scores of people turn out to greet him.
During his two-day visit, he joined the Colgan Hall 100th anniversary celebrations in Carndonagh and visited the newly-restored O'Doherty Castle in Clonmany. He also presented the Tipp O'Neill Disaspora Award in Buncrana.