Post office closures would be "devastating"
24.02.14
THE Government said it is committed to a "strong and viable" post office network in communities around the country.
Minister for Small Business, John Perry made the comments amid fears that up to 550 post offices including many in Co Donegal could close if plans to pay social welfare payments electronically go ahead.
"Minister Rabbitte has confirmed to me that in the context of public sector transformation, his department has suggested that the increased use of the Post Office network should be considered by public sector bodies, where this is appropriate," said Mr Perry.
"Two thirds of our post offices are in rural areas, providing a very important service to local communities. But the postal network is undoubtedly facing challenges, due in no small part to the fact that mail volumes have fallen by a quarter in the last five years.
"Yet, as a commercial State body An Post can bid for business from both public and private organisations in a competitive market, so a key focus of the network must be to source new revenue sources."
Meanwhile, Inishowen deputy, Charlie McConalogue, said widespread post office closures in Co Donegal would be "devastating".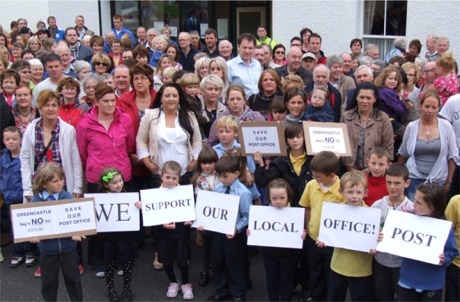 A large crowd turned out on Friday, 20th September, 2013 to show support for the continuation of Greencastle Post Office.
"Donegal communities have lost too many local services over the past three years. Bank branches have shut down, garda stations have been closed, local schools are under threat, State funding for local services has been cut and many small local business have been forced to close or cut jobs because they cannot get the support they need. The loss of the post office on top of all of this would be yet another blow to community life," he said. He called on Minister for Social Protection Joan Burton and Communicatons Minister Pat Rabbitte to "provide some assurances to communities about the future of their local post office".