Buncrana hosts Plaza for Gaza charity gig
19.08.14
A BIG musical extravaganza - Plaza for Gaza - is being organised in Buncrana to support the humanitarian efforts in Jerusalem of local musician John Cutliffe.
For several weeks John (52) has been doing what he can to make life more bearable for the children being treated in hospitals in the besieged territory.
His daily posts on social media show how desperate things are for the kids and the shortage of supplies in the hospitals.
John decided that, in their time of need, who better to turn to than the good people of Inishowen and his friends in the entertainment world. So Plaza for Gaza was born.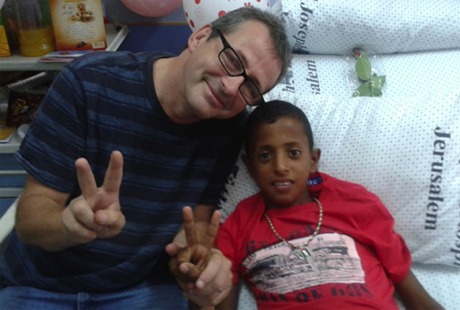 Buncrana musician John Cutliffe helps out in Jerusalem.
On Saturday, September 6, the iconic ballroom on Main Street, Buncrana, will be rocking to the rafters when bands and performers from near and far will take to the stage to present a musical extravaganza. The money raised will all go to buy much-needed equipment, medical supplies, toys and aid for the injured youngsters many of whom have lost everything.
Everything from jazz to trad to rock to folk will be heard on the night and a few surprises will be in store too.
Headline act is the highly acclaimed Honor Heffernan and her band with popular local acts Larry and The Ladyboy's, Don't Fear The Natives, Studio 47 dance group, and the Passion Fruit Club DJs. More acts will be confirmed nearer the date but that's an impressive line-up to be getting on with!
All of the performers and organisers are giving their time for free and all proceeds from the night are going directly to the hospitals in Jerusalem. Indeed, Honor Heffernan is also kindly donating the proceeds from sales of her CD on the night to the fund. Tickets are on sale in a range of outlets throughout Buncrana and Inishowen or simply pay at the door on the night.
An account has been opened in Buncrana Credit Union and all proceeds from Plaza for Gaza will be lodged there. After the big event the money will be electronically transferred to the bank accounts of hospitals in Jerusalem treating sick and injured children.
The organisers are appealing for any businesses or individuals out there who want to help or contribute in any way to get in touch either through our Facebook page, Plaza for Gaza or Twitter @plazaforgaza.