DONEGAL pet owners have been urged to supervise young children playing with loom bands after vets were forced to amputate a little dog's tail.
Patches' concerned owners brought her for a check up after they noticed her behaving oddly and becoming increasingly quiet.
Vets noticed her tail was sore and after shaving it discovered the tightly twisted loom band that was cutting off the blood supply hidden under the fur.
"There had been some relatives visiting and there were quite a few young children about the house over the course of a couple of weeks. The children probably thought the blue loom band would look cute on the dog and didn't know it would hurt her," said Kirsten Cole, head nurse at Cara Veterinary Hospital.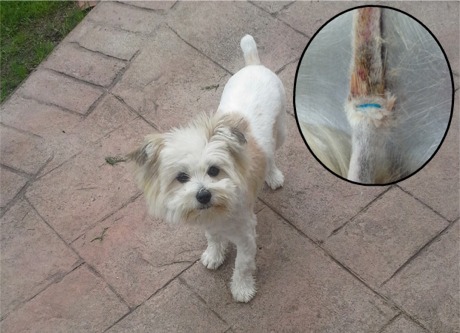 Cautionary tail: Patches has made a full recovery despite losing two-thirds of her tail. The blue loom band twisted tightly on the terrier cross' tail.
The one-year old terrier cross has now lost two-thirds of her tail but has happily made a full recovery.
"She only has about a third of her tail left but it doesn't bother her at all. She's flying about the place as normal and her owner is delighted."
The Dublin practice has urged all pet owners to supervise young children and warn them of the dangers of putting loom bands and other items on animals whose fur can hide the dangers.
"Little children love putting colourful, pretty things like bobbins on their pets and they think it's really cute but it can be dangerous for the animal," added Ms Cole.